WELCOME TO
"San Francisco is a mad city, inhabited for the most part by perfectly
insane people whose women are of remarkable beauty."
-Rudyard Kipling
---
I've lived in San Francisco for over thirteen years and enjoy this city in it's quirky cosmopolitan complexity. All are welcome to experience it's wacky ways and the vagaries of it's various incarnations, just bring money. I can't share every nook and crannie but hope you will use some info here to find your own. I realize that a lot of people online are plucking their info about this town from the corporate sites like Big Bad Barry Diller's Citysearch . Well if you scrounge around my site, there are many other sources of info here and I'll hopefully get you started on a decent web adventure. These links are brought to you to accent your introductory trip through the city that invented trippy.
---
WE ARE STILL WORKING ON THIS SITE
SO PLEASE BEAR WITH US AS WE GET IT TOGETHER.
---
The Lay of The Land
The 49 mile square city is basically comprised of several unique neighborhoods
among them are :
The Richmond
The Sunset
The Fillmore
Westrn Addition
The Haight
Lower Haight
The Marina
St. Francis Woods
Seacliff
Mission
Cow Hollow
Outer Mission
Excelsior
South Beach

The Tenderloin
Chinatown
North Beach
Hunter's Point
Castro
Upper Market
Nob Hill
Mission Bay
Potrero
Dog Patch
Bayview
Downtown
SOMA
Russian Hill
These neighborhood names are of course vaguely interchangeable as you travel block by block and often will be inaccurate according to what real estate agent you talk to...One of the latest stupid terms currently bandied about is Multimedia Gulch, referring to a burgeoning hi-tech corridor in the Mission.
A great site I found is called SF Stories and has wonderful stories broken down by neighborhood about San Francisco, many left by the users and of course the ubiquitous contributions from the webmaster. It's different and personal, not really tourist info but a treasure trove of a different sort...

Here's a link to a page with live camera feeds to locations throughout SF
---
Below is a randomly compiled set of links that will take you to and fro through a cross section of San Francisco Info. These links encompass a range of perspectives that vary from link to link,some sites are commercial and some more personalized and creatively compiled than you're likely to find from the obvious corporate sites...
---
Getting Around and Finding Your Way
For some SF bay area public transit info...you can try www.transitinfo.org. This site can get you all over if you know how to read timetables. Publicly run Busses, Ferries, Trains listed here can get you moving from Healdsburg to Hayward, Sebastopol to Santa Cruz via public transit.
Cityspan - S.F's Official Web Site
Cityspan is the official web site of the government of the City and County of San Francisco
A local's web guide to SF
Cool Beans (a local zine published by cabbie Matt Kelly) has these Taxi Driver Shortcuts as well as a few factoids to ponder in his SF issue #7.
if you are brave enough to bring your car...here's places you can park
Nightlife and Cultural Scene

Events and Activities sites include:
SF Nite , What's Happenin and SF Station

TheList
TheList has been compiled by scene hero Steve Koepke for about 10 years and is an exhaustive reference of rock and punk shows.
Laughing Squid publishes a popular alternative culture email events list
We also have SF Girl and now The Bay Boyz Social Calender
even Yahoo now has an SF Happy Hour Club
See an indepth idiosyncratic hipster goth geek's guide to SF (updated June 2000).

The weekly newspaper SF Bay Guardian now has a competitor owned by the Phoenix based New Times chain covering San Francisco entertainment, politics, and restaurants at SFweekly.com .
If you dig cool cutting edge art check out some of our local galleries and artists featured at
these sites: The Lab, cell space, Southern Exposure, ArtVan, Artists Television Access, Seemen.org or SRL: Survival Research Labs' official site. Additional art and cool event related folks include The Werepad and the venerable SF Cacophony Society.
Plus , I must mention one of my fave monthly nocturnal activities:
Bars and Niteclubs also abound and some of my least pretentious urban faves are Sadie's and Bottom Of The Hill
If you'd like to discuss your fave San Francisco attractions you can generally find me bartending at Edward II pub at Scott and Lombard Thursday - Saturday evenings from 6pm-12am
ask for Lil Mike
Community Resources and Politics
Another diverse round up of local coverage and media resources is available at The Usual Suspects: San Francisco's Political Homepage (an excellent resource for local and other news links). Also try The Bay Area Progressive Directory A guide to about 1000 organizations in the San Francisco Bay Area of interest to progressive activists. The folks at Shaping San Francisco attempt at telling the political and social history of the city where William Randolph Hearst invented propagandesque "yellow journalism". Their emphasis is generally placed on the stories of San Franciscans unmentioned in Hearst's version and people "who [were] usually left out of the historical record..."
A good site of San Francisco history is SF memories and another featuring F.A.Q.s about SF landmarks is available via B. Weed's page @ Compuserve. Joe Humphreys' San Francisco History and Touring Page has a Schedule of Free Walking Tours of San Francisco and other events related to San Francisco history and touring. (added 2000/05/22)
Unique Services, Organizations and Businesses
If you're job hunting or looking to share an apartment in SF, many digerati frequent the site known as Craig's List. There's also a pale imitator site called List Foundation that stole Craig's concept. The Chronicle newspaper has a classified rental section mostly peppered with bait and switch ads from corporate run rental agencies that control much of the apt. hunting game. These agencies add hundreds of dollars to the cost of finding already expensive living quarters and go by names like Metro Rent, Rent Tech, and SF 4 rent.
Of course, if you are coming to live in Northern California, bring plenty o' money as po' folks generally ain't well received 'round here much anymore. Our tight housing market puts us on par or beyond prices in Tokyo and NYC per sq. foot. Many 1 bdrm apts. in SF start at $2000 a month, studios at $1500 and up. (some rent f.a.q's i compiled.) The regional median price for single family homes is now well over $400,000.
Even the once lowly South Bay ,
'burbs have exploded in cost due to
the surging boomlandia in silicon valley.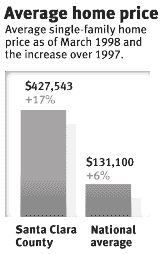 A list of more online guides to the city is available from the SF Public Library Website as well as San Francisco.com
If you're coming to town and wanna check your e-mail...u can go to any number of cyber cafes including my personal faves like SOMA's CoffeeNet and in the Lower Haight try Download Deli
Here's an SF organization dedicated to disc (.a.k.a frisbee) golf but real men Skip!.
Fashionable types may want to check out local designer's sites like Rubygirl and Fabric8
looking for paid erotic adventure ? then try SF's Eros-Guide.
Creating a sustainable vision for the city should be a goal for all
feel like bay area bird watching...then click here

Earthquake Preparedness: Get ready for the big one...
---
thanx for your visit...
while your waiting for us to get it together you may also seek some web page building tips of your own .
check out our other pages at tripod for some dv8r diversions and logical nonsense

last updated March 2001