---
We Have Lotsa New News Coming Yer Way
Among Our Top Stories Concern Biz Happenings, Summer Tours, Legal Snafus, etc.
Radiohead has released their latest album online ahead of it appearing in stores...
click to hear a streaming version of it!
click to visit our archives
where you'll find old news on Dead Kennedys, Gary Glitter, Third Eye Blind and much more...

the latest gossip below: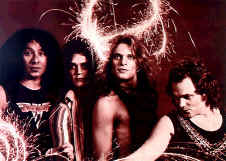 David Lee Roth rejoining Van Halen again?
"It's like a divorce. It's over and done with. But anyone who thinks he's ever coming back is ridiculous." - Eddie Van Halen talking about David Lee Roth circa the 2nd break up
David Lee Roth will tour as a solo act summer 2001 despite speculation that he was to rejoin Van Halen.
According to those supposedly in the know over at VHND.com, the embattled Van Halen camp( under intense label pressure), have worked with a "moderator" and have had to come to tenuous terms of endearment with ex-lead singer David Lee Roth. The whole shebang is shrouded in ridiculous layers of rumour and mystery, and now the cancer battling Eddie says the recently recorded Roth tracks will never come to light. This may explain rumours of "Magic Carpet Ride" from Steppenwolf appearing connected with the band. [VHND notes: If you search for performances by VAN HALEN on the ASCAP database, "Magic Carpet Ride" appears on the list, along with every other song Van Halen has released officially. Link: http://www.ascap.com/ace/ACE.html]
The VH camp is holding back announcements until the songs are done, and David Lee Roth is supposedly under a gag order not to divulge too many details. When questioned by fans at a recent Super Bowl event Diamond Dave did confirm he had been working with the group, but in the spring said he had not done any such work since July 2000.
---
U2/SFX partnering up for Elevation, letting fans down?
U2 , whose 1997 Popmart tour made them almost 140 million, have announced controversial festival seating plans for their SFX promoted Elevation tour this year. Not only are prices considered high @ $50 - $150 per ticket, reserved seating isn't the main strategy. ''There's so much anxiety and confusion by a vast majority of fans, because they're spending $130 for 'Golden Circle' tickets, but nobody knows what that is,'' said Matt McGee , of the fan site atu2.com in USA Today. Paul Wertheimer, a safety consultant and author of a report on The Who's 1979 Cincinnati disaster, where 11 fans died in the rush to get into the Riverfront Coliseum, has criticized the band and manager Paul McGuinness. "Historically, festival seating is the most dangerous concert configuration," Wertheimer says. Founder of Crowd Management Strategies, Wertheimer sees an obvious profit grab due to reduced seating costs for venues and the ability to sell more tickets as prime motivators to promoters, not crowd safety. U2 and their partner , the Wall Street fueled concert venue conglomerate "SFX will profit from general admission, not the fans". Unlike Pearl Jam which fought a losing battle to lower their ticket prices, U2 are joining forces with Clear Channel Communications, which owns both SFX and Ticketmaster, and has its grip on live venues in 40 countries, including 130 venues in the U.S. alone.
---"The best seats are actually the cheapest seats in the house, and that's right in front of us." said Bono in a recent sonic net interview.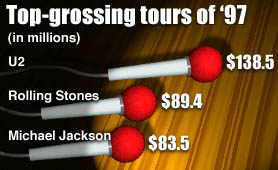 Ironically the band , who've championed free speech and other social issues, have tried to force a gag rule on some interviewers from radio stations in regards to the seating issue. "Rock shows have always been a kind of positive riot," Bono told USA Today in February . "Our shows in Europe have been very physical experiences, said Bono."---
U2 has had crowd safety problems before including this wire story of a 1997 Rome, Italy, concert. "Hospital sources said a 28-year-old local student, fell into a coma on Thursday night before he could be carried through the crowd to an ambulance. He died shortly after arriving in hospital… [W]itnesses said the medical team had struggled to reach him through the dense crowd and had been blocked by U2's security team, who were standing several metres from the ambulance to protect the band as they were about to climb on to the stage...IT WAS ALSO ALLEGED SECURITY GUARDS DEMANDED THE AMBULANCE CREW SWITCH OFF THEIR LIGHTS TO AVOID SPOILING THE SHOW AT AN AERODROME ON THE OUTSKIRTS OF THE CITY." In a recent report Wertheimer reports that nearly 70 fans had died at concerts in 1999. A 15 year old Australian girl died at a festival featuring Limp Bizkit in Australia earlier in 2001, and Pearl Jam had fans crushed in a European Festival last year. The Smashing Pumpkins also had a death awhile back at a festival held in U2's homebase of Dublin. For Wertheimer's website see CrowdSafe.com. Link to a related USA Today story on U2
---
Ozzfest 2001 : Black Sabbath will be headlining, with support by Marilyn Manson, Papa Roach, Slipknot, Linkin Park, and Disturbed. Side stage acts will vary from town to town. Ozzfest will kick off June 8 at Chicago's World Theater, with approximately 30 other dates expected to follow.
Marilyn Manson, since having appeared onstage in Germany with controversial rapper Eminem has been possibly jinxed & having his own troubles on his God Guns and Government tour in Italy. In early February 2001, he was arrested twice after shows for indecent exposure by Italian Police.
San Diego based thrash pop band Sprung Monkey who completed a Yellow Snow Tour in February 2001 with Slightly Stoopid are set to release their forth full length disc in April 2001 on a new faux indie called Redline (which actually a front for Best Buy). Despite the lack of street cred, we suspect it will be a big hit with the kids in 2001.
Warped 2001 is hoping to line up No Doubt, but already has confirmations from Epitaph bands Rancid and Pennywise. Additional Epitaph acts lined up for the tour which begns in June include the Dropkick Murphys, H20, Bouncing Souls, Less Than Jake, Me First and the Gimme Gimmes, and New Found Glory. Other bands on board include Black Eyed Peas, AFI, Fenix*TX and the Vandals. Ownership of The Warped Tour switched hands in 2000 from entrepreneur Kevin Lyman to Launch Media. Lyman is still involved and has worked to bring in additional acts such as Incredibly Strange Wrestling and keep the ticket price down to a reasonable $25.
---
No Doubt, Green Day , At The Drive In were all scheduled to open for selected dates on the Beasties and Rage Against The Machine Tour last summer. Mike D of the Beastie's was badly injured in a bike accident in N.Y.C and the tour was cancelled, Rage then broke up when Zack " check me out, I'm like f'n radical in my puffy ski jacket dude" DeLa Rocha skipped out on the notorious political rawkers. Does anybody miss this guy?
---
Recent concert recordings of Pearl Jam are available in 25 2CD sets available by mail order from www.tenclub.net since September 5 2000. Pearl Jam'sofficial website is at www. sonymusic.com/artists/PearlJam They will not release the tragic Roskilde concert as misreported in NME and other media. 3 fans died that day in the mosh pit.
---
Check Out Some Cool 2000 releases you may have overlooked:
August 1: Hepcat Push ën Shove (Hellcat/Epitaph)
Incubus When Incubus Attacks (EP) (Immortal/Epic)
Agent Orange Greatest & Latest This, That-n-the Other Thing (Cleopatra)
Wyclef Jean The Ecleftic : Two Sides Two a Book(Sony)
Rancid - Rancid*(Epitaph)
August 15: Jets To Brazil - Four Cornered Night(Jade Tree)
other tidbits
Madonna's website to promote her latest release http://www.madonnamusic.com/ features tracks that are being streamed exclusively using the Apple QuickTime format featuring the QDesign Music Codec (coder/decoder). A member of the SDMI, Qdesign's hi quality mpeg streaming was chosen over competing formats from Microsoft and real networks. The first single 'Music', was released through Maverick on August 22 2000, preceded the album of the same name, co-produced by William Orbit and French-Afghani producer Mirwais .


Rod Stewart is Crossing Over To Atlantic Records after 25 years with Warner Bros. His new album "Human" is being promoted with videos for "I Can't Deny It" and "Run Back Into Your Arms." A site called http://www.RodStewartLive.com, is featuring behind-the-scenes video footage as well as the full videos, sound clips and exclusive contests. "I Can't Deny It" was shipped to radio before the album's release in Feb 2001 and soon became the No. 1 most-added song at Adult Contemporary stations nationwide.
We have the track listing for The Best Of Soul Asylum which came out last fall to little fanfare :(
---
RECENT PASSINGS: (click l.p covers for discography)
January 10, 2001 - Bryan Gregory, guitarist for the Cramps, died at the Anaheim (CA) Memorial Hospital after suffering a heart attack and never fully recovered. Gregory a founding member of the seminal rockabilly revivalists played on their earliest material ( some produced by Alex Chilton) but left the group by their third L.P "Off The Bone".
DEC 31, 2000: Eddy Shaver died of a Heroin overdose in Waco Texas. The son of Billy Joe Shaver, Eddy played guitar in Dwight Yoakum's group from 1987 - 1989 and was a member of the Memphis based Delta Rebels who were on Polygram in the early 90's...
November 5, 2000 marked the death of an American original, Jimmie Davis who wrote over 400 songs and recorded over 50 albums, with his "You Are My Sunshine" tune being his main claim to fame. In addition to music , he dabbled in Louisiana politics serving two terms as Governor of Louisiana (1944-48 & 1960-64). Jimmie passed away at his home in Baton Rouge at 4:40 AM. He was 101.
March 27, 2000: Ian Dury, known for his punky reggae crossover hits on the Stiff label "Sex and Drugs and Rock and Roll," "Spasticus Autisticus" "Hit Me With Your Rhythm Stick" and "Reasons to be Cheerful" etc. died of complications from colon cancer and emphysema at age 57. After his musical career subsided in the late 80's he appeared in the cult classic film The Cook, The Thief, His Wife and Her Lover and at occasional U.K festival and club dates up until his health failed. Dury was a childhood polio victim and had recently visited war torn Sri Lanka in 1998, on a campaign to rid the county of polio. He toured refugee camps with Robbie Williams and helped give children oral vaccinations against the disease.
We have obits on some of our other fave musicians like Hoyt Axton, Brad Nowell, Curtis Mayfield etc.
To Keep Track Of Other Dead Folks Check Out You're Outta Here
---