Right Back To DV8R's Sublime Pages.
Lifestyles of the Long Beach Dub All Stars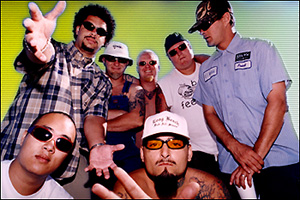 Tour News:
The 16 member LBDAS road posse, recently finished the 36 shows in 6 weeks demanded by the Warped Tour 2000 and headed to Japan and Australia. The band are still promoting their debut Dreamworks CD "Right Back". The day to day logistics of organizing, arranging and babysitting such a venture have fallen on a support staff headed by business manager Jon Phillips, and road manager Mitch Alden. Booking is being handled by Artist Direct. Miguel isn't on stage anymore with the band and has taken back over the soundman role he played in Sublime, John of the Ziggens mixes monitors and an LBC character known only as Scummy is the guitar tech. Other folks occasionally in the rotating entourage include Pauly Two-Times( ex- Lordz of Brookyn) and reggae artist Half Pint (pictured below with Tim Wu, Ras 1, and Jack Maness.)
I had a chance to speak with Half Pint after a show recently and he was honored to be keeping Brad's spirit and music alive. Although he had never met Bradley, he spoke of feeling his presence throughout the tour and knowing that the band was engaged in a spiritual pursuit that sought happiness and enlightenment out of the sorrow and sadness of his untimely death .
---
Check Out Our Short Exclusive Video ...
Video Of Ras 1 and Miguel Backstage
General News:
Paul Leary who worked with Sublime, will produce the next album from the Long Beach Dub Allstars. The work began in September 2000 in L.A and finished tracking in Leary's hometown of Austin, Tejas.
General know it all, Miguel informed me in Oct. '99 that the LBDAS debut CD "Right Back" on Dreamworks moved 25,000 units in it's first week out according to Soundscan.
In contrast MCA's live Sublime album "Stand By Your Van," sold more than 27,000 copies in its debut week.
The label hopes that LBDAS may emerge from the shadows of Brad Nowell's music and be accepted for their new music as well.
As you may have guessed from the name , the group hails from Long Beach, a Southern California city ( approx pop 450,000) that covers a land area of 129.2 sq km (49.9 sq mi). The city has a diverse population and varies from upper middle class beachfront homes, blue collar industrial areas to sketchy inner city ghetto vibes. It is these characteristics that influenced Sublime and LBDAS. Below is a photo of the Quenn Mary where portions of the Trailer Ras video were filmed.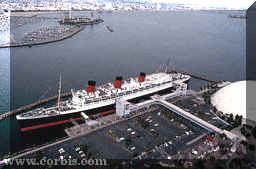 Queen Mary Photo Courtesy Corbis.com