Well, there they are...ERIC, BUD & MIGUEL sitting still for a lil' MTV hype spot way back in 1997

YO! This 2001 Update just in...

The LBDAS Recorded Lotsa Stuff With Paul Leary In Texas For The New CD...

This release drops Sept. 11th.

Have you heard of the Long Beach Dub Allstars' street team? Join to help promote the band and their new album in your area with chances to score some cool exclusive L.B. Dub prizes.
Click Here To join the Dub Squad street team


The O.G Right Back CD has 12 crucial tracks & has been available since late Sept. '99 from Dreamworks!

HEY! Click to Download The First Single "Trailer Ras" as an

MP3 now!

To purchase Sublime stuff, visit :

includes links to T-shirts, DVD's , Books, etc

---

Older Available LBDAS Audio Downloads Are :

5446 live version
---
The rest of the info below is older info including press releases from Sublime etc:
On January 26 1999 Sublime announced an exclusive online offer for a vinyl edition of the Long Beach-based group's platinum album "40 Oz. To Freedom." .
more info on this announcement is available via this link

---
Other Sublime products now available include:
Sublime Acoustic CD
and
the Stories Tales and Exaggerations Video

Links To Purchase Available Below
MCA has also released a posthumous live album that was recorded mostly in San Francisco at Komotion in 1994. I put on this great show and want y'all to check it out…
It came out on MCA June 30th '98, featuring alternate mixes of many songs that previously appeared on the 1996 independent " It All Seems So Silly In The Long Run ",CD. As you may know "Silly" is usually pretty hard to obtain. Entitled "Stand By Your Van " …here's the track listing of the MCA version.
Track List
Sublime: Stand By Your Van (Gasoline Alley/MCA)
Produced by Miguel
1. Don't Push
2. Right Back
3. New Thrash
4. Let's Go Get Stoned
5. Greatest Hits
6. Date Rape
7. S.T.P.
8. Badfish
9. D.J.s
10. Work That We Do
11. Pool Shark
12. Ebin
13. All You Need
14. Waiting For My Ruca
15. Caress Me Down
16. KRS-One
---
The Long Beach Dub All Stars continue to exist in a smoky haze. They are planning to visit Japan this year and any new announced tour dates are eventually available via the Pollstar tour database search engine. The band has refined there act into a semi-chaotic, but always crowd pleasing schtick with occasional special guests interspersed. Fond of package tours like Warped and Sno-Core, they were scheduled to take part in Lollapalooza but it was cancelled in 1998. If Lollapalooza ever reoccurs count on them to show up since their new booking agency is ArtistDirect, the people who brought you Lollapalooza...
I recently caught some shows by the group on the Summer Warped Tour 2000 and at the sold out LA Sports Arena January 21st of 2000. At the LA sports Arena they put on an energetic set replete with mega huge mosh pit and guests like Buju Banton, Barrington Levy and Half Pint. LBDAS seemed energized in front of a huge LA crowd and played plenty of sweet dub tunes mixed with the harder edge stuff. Opening the show were old school jurassic punkers T.S.O.L , The Vandals and All. Some band called Pennywise played as well, but quite a few folks cleared the hall when that jock rock noise began.
If enough folks bug me , I'll post some pix from these mega shows...
Maybe even a few real player video files...
I plan to edit some footage for the band's own site
http://www.longbeachduballstars.net
for info write:
sublime@eventmagic.com
p.s i posted some New Years Eve in Oakland pix... the link is down below
---
Archival Stuff:
SOME 1998 SNO CORE HAPPENINGS
I saw the Long Beach Dub All-Stars,as part of Sno-Core 98 @ the San Jose State Events Center. 1997's SN0-Core attendees were treated to a Sublime video and for 98 , former members and old pals filled the stage with rancorous good time party jams and audience sing-alongs.

The band had to take the stage at the crack of 7:45 only 15 minutes after the Aquabats finished off the opening set festivities. The audience members that managed to arrive early crowded around the edge of the stage and began furiously pressing to get closer to the on stage shenanigans. As the band took copious amounts of time between songs to reload the musical ammo the young kids in front grew ever more anxious. Highlights of the set included Sublime jams like Doin' Time, April 29th 1992 and Op-Ivy's Take Warning intermingled with dubbed out Marshall scratching and mini-treatments of ska classics like Bob Marley's One More Cup of Coffee.

After the altogether brief set, (also notable for the conspicuous absence of former keyboardist & Fat Albert lookalike Ikey) the band returned to the cavernous arena innards for a backstage jam session. Miguel set up a new digital mixer toy and let the boys who were circled round enjoy a free-form dub jam. Sax player Tim strolled and blew accented melodies down the echo chamber/shower stalls normally filled with female basketball players. When not pounding along on a mini percussion set-up Bud rolled giant j's with some fine northern cali' agricultural products that filled the room with a sticky sweet smoke. Manager Jon-Phillips was up from L.A and sent someone out for more Heineken after the BGP folks cut off the pitifully short supply. Eric Wilson was down to his "fighting weight" and smoothly smacking out bass lines until he switched to guitar and played a slew of old school punk covers including Agent Orange's "Bloodstains". Miguel picked up some of the slack after his sister left and brought in an off the cuff version of "Take the Skinheads Bowling".

Eventually the party died down as the dirt weed & beer in a can ran out, the band headed off to their next stop at the dirt floored Reno Cattle Stockyards...

just keep scrolling kiddo!


---
ALL-STAR GOSSIP & WHATNOT

Apparently the ALL-STARS felt growing pains after some brief trial west coast show dates in the fall and summer of 1997. The project was on temporary hiatus due to various tensions within the rather large touring contingent. Reports over Southern California radio stations in September of '97 even reported a scuffle at a San Diego performance. However the band played an LA show in November, worked it back into a tizzy and took the sno-core tour offer...

Here's an early LBDAS review from 1997

On stage you can sense the strange surreal vibes of the 10 member posse straining to recreate something that 90% of their fans had never seen the first time around. Although a general jubilance fills the green-bud scented air around the stage, something is obviously awkward. The All-Star's shows are massive rituals (and soundman nightmares), originally Miguel attempted to play guitar and do some live mixing on stage. This had to be scratched. A horn section and some additional keyboards and guitar are thrown in, then add occasional special guests like H.R of Bad Brains, Mad Lion and the Born Jamericans hammin' it up.
Amidst all the chaos, loco leadsinger and band graphics maestro Opie, is up front and going through the motions reciting Brad's lyrics , ever carefull not to over emote or change the flow , lest he ruin the feel for all those singing along. While it is truly great to see Marshall scratching and cuttin' up a storm, there is only so far these "tribute party" style shows can go...Original material is on the way as Bud & Eric are now freed from the lame MCA contract.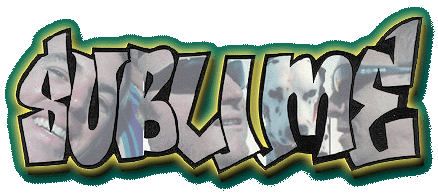 In Other Sublime Related News...
Eric plays on the Angelique Bianca track "Johnny the Junkie" for her Red Ant debut which came out in 1997. Eric & Bud are also featured as part of a Marshall Arts remix of a new KRS-One CD-5 available as an import through discerning outlets...

Check for Long Beach Dub All Star Recordings on three different CD compilations out now...One is an OP-IVY tribute, they do Take Warning, Marshall contributes a funky urbane version of Badtown. Another LBDAS track is put out by Johnny "Vegas" Halperin where they do a live version of "marshall loop dub" recorded at the "Enough's Enough" benefit @ The Palladium. The address to get a cheap copy is "HEY BRO" P.O BOX 2175 Newport Beach Ca 92659.

Another worthy release is a Fall '97 Skunk Sampler. By the way try the trading post at www.skunk.com (that's the ultra-fan megasite y'all shoulda visited by now).
Recent Skunk news includes the latest Slightly Stoopid and Corn Doggie releases. The Ziggens have a new live album out and put out a studio CD awhile back featuring ex-Pixie Frank Black and produced by Elliott Easton of the Cars/Tiki Men. The album generated a bit of deserved industry hub bub for the boys...The new Bargain Music CD also features a tune co-written by Bradley.
---

The SECOND HAND SMOKE release did quite well and cashed in on the band's platinum plus notoriety by including some older classics like Saw Red as well as Doin Time remixes and assorted outtakes. Bad Fish is currently getting Airplay on KROQ in L.A and other major stations. MCA is hoping to milk some mega-mileage from the re-release and pimping of past product. The label re-negotiated with Brad's dad Jim Nowell and finalized arrangements for continued archival releases. Much of the material on "smoke" is available on the Sensimilla bootleg which was comprised from the band's own tape collection. Profits from this will be partially funneled into the MAPS drug abuse programs, Brad's wife Troy is becoming a counselor there. One option available for purchase lists for $19.99 and features a t-shirt and all profits donated to MAPS.
The band also have home video release out via Skunk that contains rare footage and is generally a more downhome style presentation than the compilation video put out by MCA.

HEY click here & check out our other pages ! fool...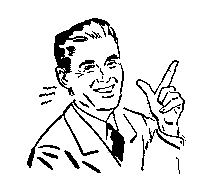 ---
wHoA! watcha lookin at down here punk?

well... since yer still here, click on louie ye searchin fool and see some long beach dub all star live shots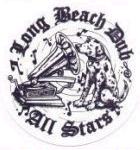 some links:
MTV's BioRhythm on Brad Nowell
---
---




LinkExchange Member



The following graphic that's taking forever to load is the cover of a live CD put out shortly after Brad's death...It features live digital multi-track recordings and is a very high quality boot you should obviously try to obtain it. Email me if you want to find out moreIn addition to the killer multitrack stuffit also features some sorta lo-fi walkman recordings of the band's last show in Petaluma May 24 1996, only hours before the band checked into a San Francisco motel room and awoke short one member.


Chances are if you've got the ability to find this page on your computer , you're doing something more constructive with your time than drugs. Please for the sake of everyone around you, don't resort to using needles...nothing positive ever comes from this life sapping past time.
Brad Nowell is not the only person I've lost to Heroin use in my life, the list grows painfully longer every year, sometimes every week. Do whatever you can to keep your friends off the shit, at times it seems hopeless, but, you never know when you'll see them alive again. If you'd like some info on how to help someone quit there's info coming to my web pages soon...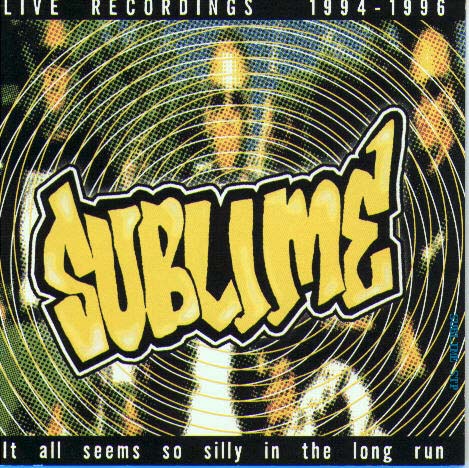 bot="HTMLMarkup" endspan