SHOTWELL SHOW HISTORY
A sporadic look at some past Shotwell shows
taken from vague memory, archived copies of the List and other sources
---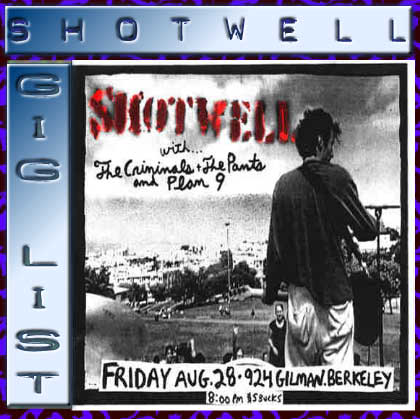 1994 live debut with Aaron Cometbus on drums
Dec 10 Sat Sublime (Long Beach), Strung Out (Ventura), Conspiracy (Santa Rosa),
       Shotwell Coho at Komotion in SF a/a $6 9pm **
1996 September Cal/Az tour with Steve Moriarty on drums 
featured a variety of shows including:

               Shotwell and Groovie Ghoulies @ Manteca Roller Rink           
1997 The Pete Simonelli moves from projectionist to drummer tour
Jan  8 Wed Mens Club, Infested, Shotwell at Chameleon in SF 21+ $4 9pm
Feb 1 Sat Pansy Division, Shotwell at the Davis Teen Center a/a $5 8pm *
1999
Friday, April 30, 1999

Mission Records 2239 Mission Street (between 18th and 19th), San Francisco 8pm All Ages!!! w/ Songs For Emma and 50 Million

IL Pirata
2007 16th Street (between Potereo & Utah) San Francisco
9:00PM, 21+ (sorry kids), $5.00 cover
w/ The Strike (Minn) & Songs For emma
Our friends the STRIKE a political MOD/Punk band in the Stiff Little Fingers meets the JAM vein and Songs For Emma rented out Il Parata which seemed like a really cool place to have a show. It has a big Neon sign of a fish being caught out front.
---
Click Below To Add A Shotwell show memory to the archive!