"I want to get rich and rise above the squalor, but I don't suppose I will."
- Shane MacGowan 1986
---
While time and it's tribulations have brought Shane MacGowan a wealth of experiences, fame and a fairly steady supply of cash, his liver has surely paid a fitful price.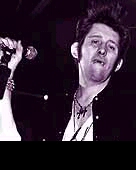 The poetic voice of the Pogues and later the Popes was born December 25, 1957 and grew up near Tipperary , Ireland . At the age of 14, he had been expelled from public school for possession of dope, acid and pills. By 18, he had already spent six months in detox hospital recovering from a prolonged drink and drugs binge.
A fixture in the early U.K punk scene of the 1970's, Shane's band The Nipple Erectors made some memorable noise but soon dissolved as the fad of punk wore out it's welcome. It wasn't until later that MacGowan's star rose. Begun in 1982 as a pub sing-a-long hoot, the Pogues rose into one of the U.K's most promising musical exports and fostered an image of party animals, led by the irascible Mac Gowan.
While their music opened doors and ears, attention focused on the group's reputation as keeper's of the intoxicated faith. "We just became known as a bunch of drunks," remembers MacGowan. "I could never understand how the drinking got so much attention. All bands drink. All bands take drugs. No one forms a band just to impress their mums. You don't expect people in bands to drink skimmed milk and spend their weekends washing the car. They spend their time and their money indulging in every self-destructive activity that is denied them by a normal 9 to 5 job. So yeah, we were drinking, we were speeding, we were stoned, and so were our audience. Big fucking deal."

the first single of the band was "Dark Streets of London" which arrived in the waning days of punk circa '84 and set up a whisky sodden legend with gigs opening for acts like The Dubliners and one Elvis Costello who later married their bassist "Cait" and soon squandered her off to Marin County California.
The early albums of The Pogues featured dramatic reinterpretations of old folks songs and classic new ones composed by MacGowan like 'The Sick Bed of Cuchulainn', which reflects on the experiences of a dying, lonely man: "They took you up to midnight Mass and left you in the lurch/So you dropped a button in the plate and spewed up in the church...When you pissed yourself in Frankfurt and got syph down in Cologne/And your heard the rattling death trains as you lay there all alone/Frank Ryan brought you whisky in a brothel in Madrid/And you decked some fucking blackshirt who was cursing all the Yids."
By 1985, they had risen out of the pubs and had acclaimed l.p's on Stiff Records produced by knob twiddlers like Elvis Costello and Steve Lillywhite under their belts. The band was building up quite a U.K rep and MacGowan was already on medication for alcohol abuse.
Creating a myth of drunken hooliganery was working for the band in the U.K but for the U.S it was decided the band needed to appear more polished. Before the Pogues played New York in the spring of 1986, the record company doctored their publicity photographs by whitening the toothless gaps in the famously rotted  MacGowan mouth. "Record companies tend to do things without asking and in America they reckoned they just couldn't sell a band with teeth like these," said Shane in a 1987 interview with London's Sunday Tribune . "So when we went over there, I bloody saw pictures in the papers and there was me with white teeth."
He was already under a doctor's orders not to drink whisky by the time I ever saw him perform in 1987, but it didn't stop him from polishing off two to three bottles of red wine a night, and that was just the visible onstage drinking.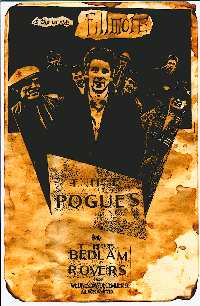 By 1989 , he missed an important  US tour opening for Bob Dylan due to "exhaustion". Shane's days with The Pogues ended by 1991 during a tour in Japan. His story and the band's story differ on whether he quit or was sacked.
What else would ye expect from the lead singer of a band originally known as "Pogue Mahone"(Gaelic for "kiss my arse".)
The semi-legendary 8 piece band that operated under this moniker for almost 15 years was still one of the greatest groups ever in my humble opinion.
  I had the rare and joyous opportunity to see them in action up close a few times and the evenings are etched into my memories, although the slightly faded due the presence of accompanying elixirs.
The band would casually roll into concert halls whilst their erstwhile manager Frank Murray did the usual amount of general shouting, threatening the promoters and  blustering the stage hands about. Meanwhile to stage right, a large equipment cabinet on wheels with a man stationed at it full time would prove not to contain any mixers, instruments or cords, but drawers of ice and bottles of Cuervo, Whisky and Gin.
Lynne Van Matre of The Chicago Sun Times wrote this of the band in 1986 on the eve of their first US tour: "Led by the cheerfully loopy-looking Shane MacGowan, who looks as if he tossed away his toothbrush around the time the Pistols tossed in the towel, the band plays music rooted in tradition, but their rebellious stance, harshly urgent delivery and rummy passion are as contemporary as you can get--adding an exhilarating, raucous edge to songs that frequently are timeless in their depiction of the more brutal sides of life and death."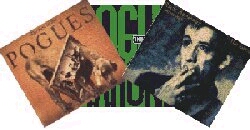 By 1999 , Robin Denselow noted in the U.K's  Guardian newspaper  that onstage MacGowan "moved painfully slow".
"Watching him, it was impossible not to think back to his triumphs on this same stage in 1988, when he was rightly treated as one of the few great performers who had rescued the eighties from the synthesised clutches of the New Romantics. That was the year the Pogues celebrated St Patrick's Day by playing a whole week of concerts here before moving off to pack Brixton Academy.
It was the year when he waltzed on this stage with Kirsty MacColl as they sang "Fairytale of New York", and when "If I Should Fall From Grace With God" was hailed as the album of the year. He had tempered his manic post-punk treatment of Irish traditional themes just enough to attract a mass following, and he was writing great lyrics. Fabers, known to have spotted a good poet or two in its time, even published a slim volume from this 'romantic of the urban brutalist school'. "
Since leaving the Pogues in 1991 in a haze of drug addled ambitions gone awry and out to dry, MacGowan has become a parody of himself at times and yet a wizened sage of the rock and roll road. He's certainly earned respect from many of his peers and has collaborated with slews of worthy fellow musicians that warrant attention including Van Morrison, Sinead O'Connor, Nick Cave and Joe Strummer. His solo albums in which he proclaims himself a "Rock-n-Roll Paddy" have produced little radio play or commercial success but Shane's charm and charisma as a live performer is undeniable.
 I recently witnessed MacGowan's tried and true stage performance at the Fillmore Auditorium in November of 2000. It was easily thirteen years earlier on the same stage that I witnessed the Pogues and a definetely less worn version of MacGowan during their "If I Should fall From Grace With God" tour.
This time around the states Shane had added a bit of weight and to his formerly stick like figure and stood centerstage using a mic stand and industrial fan blower to seemingly keep him from appearing to fall over...
It had been several years since MacGowan made a west coast stop as he failed to appear at the Guiness Fleadh outdoor festival in Golden Gate Park in 1998 as scheduled. Shane has kept a low public profile in the ensuing years but did seem healthier, if toting a conspicuous amount of girth is any sign of redemption.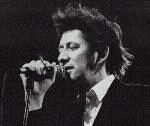 The bedraggled looking wastrels of his band included oft sloppy banjo playing by  Tom McAnimal who looks like an Irish version of Slash. They attempted to pace the set with songs from the newer material featuring the Popes , but it was the oldies from The Pogues that the crowd roared loudest for.
Live it appeared MacGowan was trying to promote his own material and steered away from the Pogues legacy whenever possible. Lack of a U.S label has kept MacGowan from offering a full length release lately. Live material was plucked from his most successful solo CD release "The Snake" (1995) which on disc featured "Church of The Holy Spook" , "That Woman's Got Me Drinking" ( featuring teen idol Johnny Depp on guitar) and a duet with Sinead O'Connor called "Haunted".
-cont. above to the right

A few years after recording the "Haunted" duet with MacGowan , O'Connor appeared on an Irish t.v chat show  and denounced  MacGowan as a junkie. This deeply offended his family who asked that their golden son be given his "privacy".  Shane recently admitted to selling his gold Pogue's records to a collector's shop "for a good price".
"Crock of Gold", Shanes 1997 U.K only release on ZTT records explored familiar themes, but spends less time boasting and brawling and more time genuflecting on his primary concerns of family tradition and memories. Other tunes in the live set include old Pogue's standby's like "Dirty Old Town" and "Sally Machlanan". Shane also performs "Chino's Place' on a new Pope's recording. A song called "Good Rats" appears on a Dropkick Murphys release entitled "Sing Loud, Sing Proud" released in February 2001 on Rancid's label Hellcat records.

Niall Stanage, an admirer of MacGowan's since his late 70's days in the "Nips" (short for "nipple erectors") was working on a biography  entitled "Down All The Days" and justified Shane's use of intoxicants  as an admirable part of his character in anecdotes like this one "his appearance on Danny Baker's chat show in which he could barely speak, yet still managed to retain a measure of dignity, is a great moment in the history of television".Stanage admits that he eventually cancelled the scheduled publication of his book: "I did indeed sign a contract with Omnibus Press in autumn 1998 to write a biography of Shane. However, by the following summer I had concluded that it was impossible to write a book that was both honourable and truthful.... there are certain areas of Shane's life which I felt no desire to examine publicly, yet to airbrush them from history would have left the book fatally lacking in credibility."
When "Holloway Blvd." was released by The Popes in March of 2000 they performed sometimes with &  sometimes without Shane, staging a 6 stop pub crawl across a stretch of greater London in which the band reportedly consumed over 100 pints of Guinness between them.
In a 1994 interview MacGowan made clear where he stands on the issue of intoxicants "See, there's two kinds of creative artists. There's those who get their highs and inspiration from their environment, from life itself if you like. They don't feel the need for artificial stimulation. Then ther's the other kind, like myself, who need drink and drugs to fuel what they do. If you take enough drugs and blow those doors open, they'll remain open. All those drugs I took, they blew my fucking mind wide open and it's stayed open. That's why I can afford to pace myself these days. That's how it is, y'know, and no cunt is going to tell me any different."