Shotwell Web Site Tour Date Section
---
SHOTWELL thanx all who have helped out on their many underground tours over the past five years
Thanx to all that put us up in the past, bought stuff, and participated and helped in any way. We need and appreciate your support...
We're steady rolling on thr road to ruin right now across this fat lil land of ours and hope to see you at one of our gigs...here's a list as of May 15th 2001
MAY
17th:Portland, OR @ mystery 15th st. house
19th:Seattle WA @ Ground Zero 257 100th ave
20th:Spokane, WA secret mystery gig - ask around
25th:Minneapolis MN @ Seward Cafe
26th:Green Bay WI. secret mystery house 618 n. ashland
27th Chicago IL @ Annie's house w/ Canadian Rifle
29th:Georgetown, IN @ Limbo Lounge 812 w. 3rd
30th:Cleveland, OH @ Speak In Tounges
JUNE
1rst:Boston, MA secret mystery gig - ask around
2nd:Long Island, NY secret mystery gig - ask around
3rd:Long Island NY secret mystery gig - ask around
5th:Newark, DE @ East End Cafe w/ Trailer Park Riot
6th:Philadelphia, PA @ Stalag 13
7th:Baltimore, Md at the Side Bar 218 E. Lexington
8th:Richmond, VA secret mystery gig - ask around
9th:Asheville, NC secret mystery gig - ask around
10th:Chattanooga, TN secret mystery gig - ask around
11thAthens, GA @ the Above Bookstore on Baxter st.
12th:Gainsville,FL @ Wayward Council w/Joe Smith
13th:Pensicola, FL secret mystery gig - ask around
15th Little Rock, AK @ the Waterfront
17th:Denver, CO secret mystery gig - ask around
18th:Albuquerque, NM @ the ABQ collective
more T.B.A

Be sure to write us and let us know what you are up to... Shotwell's Email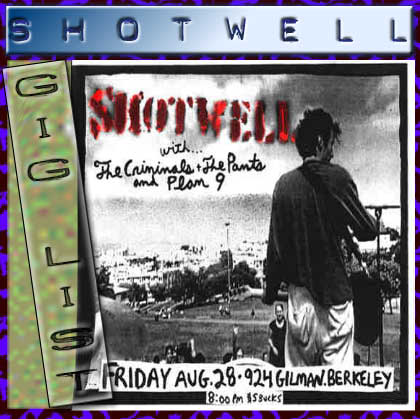 ---
Next Known Shows In Northern California !
---
Click here to automatically search The List for all current Shotwell shows documented by Steve Koepke's List in Northern California...
This is a unique database search mechanism coded by Jon R. Luini utilizing Steve Koepke's highly revered The List, a compendium of punk ska and rock shows of note. Type a band name, date or venue in the box to look for it within the current list of upcoming events.
if you want to see or add your memories to a list of  past SHOTWELL gigs
 go here
thanx for your interest