1997's Celery Beef and Iron

released on vinyl 10" and CD...available via CD Now

Click To View A Real Video of Shotwell live @ Kimo's in S.F playing a Nov 2000 benefit for the indy media center!
By 1998, Jim needed new younger blood to keep the vaguely vampiric beast of SHOTWELL alive and he found help with his friend Iggy Scam and roommate/stuntman Carl.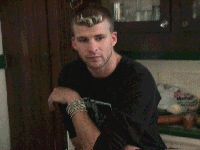 Carl Photo taken 6-98 in Jim's house.
Carl Rice, a daredevil of some reknown attempted to pick up the bassist role, but was soon distracted by various other personal activities including his whitewater river rafting fetish, stuntman school and tending his gigantic penile shaft.
After stints with Iggy and Ivy of the band and city Miami behind the drum kit, Jim finally settled on a new road worthy crew for 1999
Eventually new blood was recruited for the summer tour in the forms of Buzz and Chris
Shotwell still finds ways to rock even after pretty much abandoning the lame bar circuit and sucking up to the local SF night clubs. The group began a spate of street shows in late 98, and followed through several times in 1999 with these democratically organized and efficient blasts of urban noise. By 2000 the band is well satiated by playing SF's Mission Records and the occasional sporadic street shows at 16th st. Bart and other locations. I wasn't at most of these occasions so suffice to say it is much better documented by Iggy in the booklet that comes with the new LP on No Records.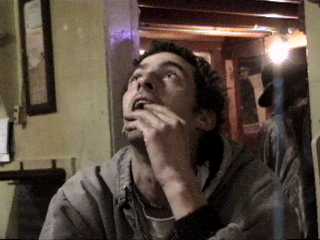 Jim Photo taken 6-99 in Petaluma Ca. at Volpi's Backroom Bar
Click to see a photo of the newest members of Shotwell circa 2001
PUNK'z NOT DEAD... IT JUST SMELLS THAT WAY