Lately I've been getting visitors from all over the globe at that site due to top ten popularity at Mp3Blogs.net, plus links from other sites like Entertainment Weekly, SF Gate's Culture Blog and various search engines etc. Unfortunately the Blogger service is down today for some reason , so I thought I'd stop by here and let y'all know wassup... and where ya canfind my most recenly updated posts p.s if ya get a chance ...check out this important flick:
See Ya Round The Web...
Posted by Lil Mike @ MissionArts.org at 2:30 PM PDT
Updated: 06/07/06 2:54 PM PDT
03/15/05
AudioScrobbler
Now Playing: Bargain Music - Movin On Up
Topic: Random Notes

Hey, If you haven't heard about Audio Scrobbler, here's the mini scoop.


It's a free web based service that pulls data out of your WinAmp or Windows Media Player then posts it to a webpage for others to see, (or in my case for me to remember what I was listening too ).


Charts are compiled from shared user data and then we can find out tidbits like yes, "I Can't Get No Satisfaction" really is the most popular Stones song, and Ruby Tuesday seems to come in third. I noticed a lotta computer geeks seem to like going postal while listening to The Postal Service these days, and other useless facts.


Here check out what I was listening too recently.

DVoodoo @ Audio Scrobbler
http://www.audioscrobbler.com/user/dvoodoo/


anyhow , it's useless, time wasting...and I gotta get going... I have tix see Me First & the Gimme Gimmes tonight and I better go get a heat on first.
Posted by Lil Mike @ MissionArts.org at 6:33 PM PST
Updated: 03/15/05 6:41 PM PST
02/01/05
Latest Music News - Gossip & Garbage - 2005
Now Playing: Latest Music News - 2005 Gossip & Garbage
Topic: Music News
... Punk Legend Wars ...

So Joey got a street sign in the Bowery?, well Johnny gets a statue in Hollywood...
so there...

The perpetual one-upmanship of the late boys from Queens
continues with the unveiling of the Johnny Ramone statue
in Hollywood Forever Cemetary last month in front a
thousand fans...

Featuring Johnny in true combat crouch, clutching his
Mosrite, the thing lurks over a pond in the famed cemetary
that also holds the bodies of Valentino & DeMille.

According to Rob Zombie, who spawned the idea as a little
joke between him & Johnny, the thing weighs 50,000 lbs and
is made of bronze. Word is, Johnny paid the $100,000 it
cost to be cast by himself. His wife Linda pulled the
sheet off the 7 foot likeness wearing white go-go boots on
a bright January afternoon surrounded by celebrity friends
and media.

Tommy Ramone was there for the unveiling along with CJ
Ramone, Seymour Stein of Sire, Anthony & John of the Chili
Peppers, Rick Rubin, Vince Gallo, Lisa Marie Presley, and
even her ex-Nicolas Cage, who spoke eloquently at the
ceremony. Dee Dee was unavailable for comment, although
he's buried pretty close by.

Click the pics for celebrity sightings,

All Access Mag Story & Pix

url : http://www.allaccessmagazine.com/Issue3-2/JohnnyRamoneTribute_Rev.htm

Wire Image Pix

url: http://www.wireimage.com/GalleryListing.asp?navtyp=gls====95552&nbc1=1#

Film Magic pix

url: http://www.filmmagic.com/ItemListing.aspx?cgl=95532&evntI=0


in other Ramones news, "End Of The Century: The Story Of The Ramones" will be released on DVD March 15th and also air on PBS April 26. The film follows the band's musical history, the often-strained personal relationships between the members.

The more homegrown video produced by Marky Ramone "Raw" got off to a strong start in late 2004 by debuting at #5 on the Billboard Music Videos chart, and has been declared gold by leading industry trade associations.

--------------------- SUPER BAD ---------------

While "King of Pop" Michael Jackson fights off his child
sex abuse charges in California, "The Godfather of Soul"
has his own sex machine thang going on... A Chicago area
woman has sued Brown regarding an alleged 1988 gunpoint
rape that she says left her with "Grave's Disease".

According to Brown's Attorney Debra Opri ( also a Jackson
family attorney), the accuser Jacque Hollander's
allegations are baseless "rag sheet fodder".

The lurid details in the suit state that Hollander, then a
member of Brown's PR staff, rode in Brown's van to a car
dealership. Brown began driving recklessly and foaming at
the mouth upon leaving the dealership.

He allegedly tortured and raped Hollander after driving to
a deserted South Carolina area, and threatend to kill her
if she told anyone.

Hollander's attorney, Donald Rosen, acknowledged the
statute of limitation on rape ran out long ago, but he
said the lawsuit is valid because Hollander's doctor
recently told her the thyroid disease she was diagnosed
with in 2000 was caused by the alleged attack.

According to the National Graves' Disease Foundation,
stress can contribute to the onset of the disease, but
many times the exact cause is unknown.

Brown who was an admitted cocaine user in the 1980's,
served nearly three years in prison after he was convicted
of assault and leading police on a 1988 car chase through
parts of Georgia and South Carolina.


---- SNOOP has something in common with James Brown ----

A makeup artist claims she was drugged and raped by Snoop Dogg backstage at ABC's Jimmy Kimmel show. Snoop has declared himself a victim of a blackmail extortion attempt from his accuser.

Emmy award winning make-up artist Kylie Bell filed suit in LA Superior Court claiming she was sexually assaulted in a dressing room after a January 2003 taping of Jimmy Kimmel Live. She is seeking $25 million and additionally names ABC, and the Walt Disney Company as defendents.

from internet dj . com

url : http://www.internetdj.com/article.php?storyid=541

Other RAP CRAP

In other music industry legal news, Irv "Gotti" Lorenzo and his brother Christopher, executives with Def Jam Music surrendered to authorities on federal money laundering charges. The Lorenzos are accused of being part of an interstate drug ring linked to executions. They both plead not guilty and were each released on one million dollars bond. They face up to 20 years in prison. Ja Rule's manager was arrested as well for similar related money laundering charges. All have denied any wrongdoing. Sources have stated that Irv "Gotti" will be indicted on alleged tax evasion charges as well.

Jay-Z new president and CEO of the Def Jam Records Label had no immediate comment. Perhaps Jay Z was himself too busy visiting Shyne, the NYC rapper who is living in Rikers prison after his conviction from a 1997 club shooting involving P.Diddy & J.LO. The Brooklyn-bred MC who shares a cell with a corrupt former NY state senator Guy Velella, signed with Def Jam in 2004 in a deal that was reportedly worth $3 million. Shyne recently met with Jay Z about his follow up album to his debut "Godfather: Buried Alive". No tour plans are yet announced, although he is potentially eligible for parole in 2009.

Snoop of course can't escape this story either, as over $500,000 of alleged drug proceeds, the federal indictment states, were used to finance Snoop's straight-to-video film, Crime Partners.
Posted by Lil Mike @ MissionArts.org at 3:40 PM PST
09/04/04
Mission Arts Monthly Column - Lil Mike's Pix For Sept 2004
Topic: Bay Area Events
Hey, this is a column from our second issue of Mission Arts Monthly,
a publication bent on offering information, articles,
previews and event info about the numerous activities
around San Francisco's Mission District.

Our focus is on highlighting the many unique &
talented folks preening, performing, painting,or
somehow participating in the cultural stew that gives
the Mission such a vibrant edge.

Having lived in this
town for umpteen years, I can attest that the Mission
is the supreme spot for eating, drinking, fucking and
sucking up the sights and sounds. The creative cocoon
is so diverse & darn welcoming that literally hours,
days, weeks or months of your lifetime can go by and
you'll perhaps barely need to leave the 'hood.

I just wanted to highlight a few of the local events
and goings on that will be making September a little
something special this year. These are some of my
picks, and as of press time I hope you'll find time to
check a few of these out. The growing gang at Mission
Arts Monthly is psyched, and hoping to help us all
celebrate the sacred, sordid, saucy, sick, silly and
serene scenes that we have just outside our doors.
---------------------------------------------

Thursday, September 9th, 2004 @ SomArts Gallery

ART AUCTION 04

The Coalition on Homelessness is celebrating 15 years
of the STREET SHEET with an Art Auction at SomArts
Gallery. There will be works by: Barry McGee,
Christine Hanlon, Eric Drooker, Alicia McCarthy, Rigo,
Chris Johanson, and MANY MORE! Reception and
registration begins at 6pm with Hors d'oevres, buffet
dinner and art auctions to follow. Sliding scale
admission $10-$40.

Where: SomArts Gallery, 934 Brannan Street (between
8th & 9th Streets), San Francisco

-------------------------
Thursday, Sept. 9th @ 12 Galaxies ( 2565 Mission
Street )
MEDITATE AND DESTROY

After the Somarts event, check out a benefit to finish
a documentary film by Sarah Fisher that focuses on
meditation teacher and author of Dharma Punx, Noah
Levine. The show will feature former Chicago bike
messenger Matt Skiba of the hip and hardy band
Alkaline Trio, one of indie rawk's most promising
acts. The Film Trailer preview is at 10:30.

Info: 415-970-9777
Check out the film website at:
www.meditateanddestroy.com
----------------------------

Saturday September 11th @ Mighty ( 15th & Utah)

B.P FALLON'S DEATH DISCO

Once Paul McCartney's dope tester, Led Zeppelin's
fawning former publicist,U2's Zoo TV tour DJ, BP
Fallon has led the kind of rawkin' life inside the
Velvet Goldmine that'd make Rodney Bingenheimer
jealous. "Purple browed Beep" is how Marc Bolan
described him in the T-Rex hit "Telegram Sam." In 1976
Phil Lynott said "BP's brilliant, though I'm not sure
what he does". King Boogaloo brings his wacky world &
White Widow to Mighty for a Death Disco style raveup &
photo retrospective on Sept 11... I wouldn't miss it
if you dig glam, slam, rock n roll...

------------------------------------

Thursday, September 16 @ Galeria De La Raza ( 24th &
Bryant)
STITCHING COMMUNITIES - an Urban Folk Fashion Show
The fashion of contemporary Mexican and local artists
wil be modeled and displayed in an art gallery
setting. It is their hope to stitch a larger cross
cultural community of artists that combine ancestral
and urban design without loosing their traditions.
For more info write Norma at stitchcominfo@yahoo.com

-----------------------------
Friday September 17th @ Thee Parkside (17th &
Wisconsin)

THE FONDAS

When not rocking onstage with the Boss, or playing a
heavy on The Sopranos, Little Steven hypes the
undergound garage rock scene via his syndicated radio
show (heard locally Sunday nights on KFOG). One of his
fave bands of late is Detroit Mi's The Fondas, who
he's had brought in for gigs with Iggy, NY Dolls and
more. Well, The Fondas are in SF this week for shows &
will rock the house with Nagg and The Straightjackets
at our beloved Parkside. If you dig The Bellrays or
Detroit Cobras, then I guess I'll see ya smoking on
the patio...

---------------------------------------
Sunday September 19th @ Valencia St ( twixt 21 &
22nd )

VALENCIA STREET FAIR ( noon til 6pm )

Heck, the street already has an under utilized bike
lane, why not it's own fair! Maybe we can make it a
permanent feature too! Bands to play include Japonize
Elephants, Why-Sall Lane, and that legendary librarian
lady herself Ms. Penelope Houston. Sponsors include
local chiropractor Dr. Milton O' Brien (Whom I'm gonna
start calling Uncle Miltie just for the heck of it...)

-------------------------------------

Sunday September 19th @ Sadie's Flying Elephant (
491 Potrero )

SWEET POLLY PUREBRED / BARFEEDERS circa 9:30 pm

As part of the THE UNPLUGGED, (BUT LIKELY DRUNK)
concert series, we welcome the stray soul survivors
still reeling and rocking from the street fair to
wander to the far side of the moon for a free show at
Potrero & Mariposa. The bands herein will be
redefining that sorta flaky folksy flava via a quasi
acoustic assault on your senses. In the interests of
journalistic integrity, I must warn ye that I will be
not only participating in this debauchery, but
bartending as well. Sadies is often a fave stop for
folks headed in or out of the psych wards of SF
General, and we hope you'll include us in your
travels.

--------------------------------

Monday, September 20 @ Elbo Room ( 647 Valencia )

CC's ACOUSTIC UNDERGROUND SHOWCASE / ABSENTEE VOTER
DRIVE

A far cry from the preceding Sunday acoustic attack at
Sadie's, the showcase here promises to not only
entertain, but perhaps help change the political world
as we know it. Performers include Minnesota's dynamic
duo Story Hill, locals Chuck Gonzalez & Liz Ross as
well as a solo performance from Alan Tower of world
fusion legends Ancient Future who plays hand fired
clay percussion. There's also a drawing from EMB
Studios who're giving away 4 hours of recording time
and if you'll register as an Absentee Voter, you get
in free...Damn! It's Just All Too Much!
------------------------------

Thursday, September 23 @ 826 Valencia ( 826 Duh )
DEVIL IN THE DETAILS Book Release Party

A book release party for Jenny Traig's first memoir,
Devil in the Details. Jenny has previously been
published in McSweeney's, and is behind the popular
Crafty Girl series for Chronicle Books. Now, the party
is here for her new memoir that truly touches on her
own "Obsessive Girlhood". I'm also thinking there
might be a lil' free wine too!

Anyhow, that's about all I have room to squeeze into
this space, and I hope you folks have new excuses to
get out about the hood more often this month.

Peas & Love Handles , Lil Mike

LilMike @ MissionArts.org

For info on advertising and submitting your events to this non profit 5000 copy circulation San Francisco neighborhood newspaper, visit Mission Arts.org

To link & circulate this column use this RSS feed
rss.xml


Posted by Lil Mike @ MissionArts.org at 8:26 PM PDT
Updated: 09/04/04 8:33 PM PDT
Small Faces - Big Footprints
Now Playing: All or Nothing by The Small Faces
Topic: Music History
Small Faces - Big Footprints
a history that's neither too brief, nor all knowing about a trip to the other side of the moon - by Lil' Mike Martzke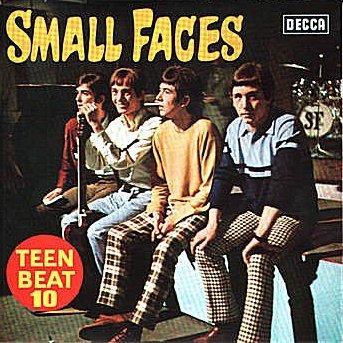 Swinging London of the mid sixties mod era gave rise to a slew of bands influenced by the R & B scene of the U.S and the most influential and prolific rock legacy ever to develop out of the U.K is likely that of The Small Faces .

The Small Faces racked up a respectable half dozen top ten U.K hits in the late 60's and carved out a niche in 20th century pop music's sordid and salacious history that's uniquely their own. After helping create the rough hewn white gentleman's mode of English R&B, they later went on to play seminal roles in the Psychedelic era, and ventured forth with boozy bluesy musical forays that helped lay out the frothy foundations for pomp & circumstance known as 70's stadium rock.

In fact, the band has played relatively unheralded but integral roles in the career's of other music superstars like Rod Stewart and Peter Frampton while having roles of lasting import on their more commercially successful compatriots The Who and The Stones. The influential impact of this cult group still resonates today via the music of diverse yet similarly brash artists like The Jam, Led Zeppelin, Pretenders, Quiet Riot, Blur, Oasis, X, Ramones, Buzzcocks, Clash, Sex Pistols, Black Crowes, Blondie, Wilco, Bon Scott, Shane MacGowan and Billy Bragg.

==== If You Can't Play, Play Loud ====

Fronted by the brash Steve Marriot, the Small Faces were perhaps the East Ender answer to the more genteel West Londoners, The Who. Marriott, was a fiery cockney frontman who had been sent to drama school as a kid, purportedly to keep him out of trouble after he burned down his middle school.

Prior to the formation of the Small Faces, young Steve Marriott, started busking in bus queues with a ukelele at age 7. By 11 he had won talent shows, and also earned the role of Artful Dodger in the stage version of Oliver Twist, where he sang several tunes on the hit cast album.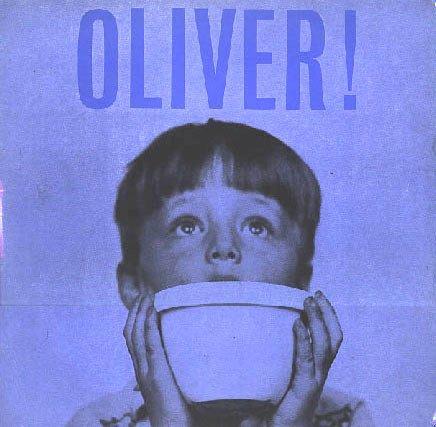 Marriott, much like his future bandmates, was raised in postwar London, a city that since crawling from the makeshift Tube station bombshelters and squalor of the 40s was a gray lady. Full of citizens still living on rations and the dole, Londeners were swallowing wounded pride, healing battle scars and doing not much else. Socially the city remained a staid, quiet, proud and conservative town, with old traditions and obvious class divisions well set. In the evenings, well to do men were attired in dinner jackets and nightlife was generally a sparse commodity, consisting mainly of traditional theatrical outlets, and pubs closed before 11 pm with the exception of exclusive private drinking clubs. Mary Quant, a popular fashion designer of the 60s recalled "There was nothing for young people, and no place to go and no sort of excitement."

Steve Marriott's folks had hoped his talent show appearances, acting & stage skills would be his break out of the dead end East End. Marriott once told an interviewer in the 1980's about his early show biz experiences. "I did a few things like Oliver! and some TV and film parts, but I began to resent it after awhile. I hated a lot of the other kids, 'cause they all came from snobby, well-to-do backgrounds and had pots of money behind 'em, unlike me."

Steve was part of a baby boom generation that was just coming into it's own, and looking for more out of life than a steady job and keys to a flat in a concrete tower block. Things were obviously ripe for change and a bit of youthful shaking up. First came the imported American idols like Buddy Holly, Elvis and Eddie Cochran to wow the crowds, but soon England developed a youth culture with tastes an style all it's own. There was an economic upswing happening, and with it came a new demographic of hip teens with taste, gainfully employed lads and lassies with pounds in their pockets. They were done with the same old big band sounds and dinner theater shows, and they needed their own recreational music to fall in love to. The staid music business was struggling to manufacture youth pop to feed a growing hunger, and even a cockney kid could get in on the gambit.

A jetset modernistic age had arrived in London, and as America had it's white washed folk revival with Mitch Mitchell, The Weavers and The Kingston Trio, in the U.K hipsters like Steve Marriott, Jimmy Page, Peter Green and Keith Richard would discover a segregated black American R&B sound. They fell in love with obscure southern bluesmen and attempted to recreate this fresh and uniquely rhythmic type of music.

Inspired no doubt by the success of the Beatles, Steve neglected acting against his parent's wishes to focus more on music. He had even managed to get his first solo single `Give Her My Regards' released by Decca in the early part of 1963. His devilishly fresh faced handsome looks continued getting him roles in a few lighthearted early 60's film farces where he shared screentime with Jerry Lee Lewis, Peter Sellers and others. He then served time in some combos, including one called The Moments that released a cover attempt to capitalize stateside on The Kinks hit U.K single `You Really Got Me'. Marriott's Moments also released a version of "Money, Money" and Steve even played harmonica in the Andrew 'Loog' Oldham Orchestra and Oldham in turn produced another solo single for the prodigious young man called 'Tell Me' in 1965.


Refusing steady work in a theatrical touring company, Steve had a Saturday afternoon day job selling instruments in the J60 music shop where he met customer and fellow musician Ronnie Lane who had is own group with Kenney Jones on drums. Marriott recalled once of his fast friend: "I ended up selling Ronnie a bass, a Harmony, at a whacking great discount".

They began hanging out & jamming together ( in addition to drinking whiskey & popping bennies), all much to chagrin of an ill fated Ilford pub owner whose piano was destroyed at their first attempt to gig together. They learned some Jimmy Reed & James Brown tunes and were dubbed by a female friend, The Small Faces. Steve Marriott once said: "The term 'Face' was a top mod, a face about town, a respected chap!"

Formed in 1965 by guitarist Steve Marriott, bassist Ronnie Lane, drummer Kenney Jones, and original keyboardist/van owner Jimmy Langwith, the group soon were working whenever they could. Steve's guitar rig itself was one of the new expensive Marshall amps, something he had a more well to do and qualified lady friend sign the credit slip for. ".. a 100 Watt Marshall - the old ones with the big cooker knobs, black and white. It was massive for those days. We were loud, notoriously loud. If you can't play, play loud." The bad were heavily influenced by the electric Chicago bluesmen like Willie Dixon and Muddy Waters and the hip new Stax & Motown sounds of the day.

Says Kenney Jones of their early days "One of our first fans was an old lady of sixty in Sheffield who knew all the James Brown numbers we were playing and kept asking for more. She knew 'em all."


=== All Or Nothing ===


The band played a gig in early 1965 attended by Don Arden (Sharon Osbourne's father) and what attracted him was not so much their musical prowess, but the fact that Lane and Marriott were bleeding from injuries sustained in a street brawl the night before. They quickly jumped at Arden's offer to record them for on Decca. At the time, the ?20 a week musican's salary he offered seemed like a princely sum to boys tired of crappy part time jobs. "We got pilled up and bounced off the walls of nightclubs, high as kites!" recalled Marriott later "It was time of great excitement. WE got our act togther in The Ruskin and he fact we became successful was a bit of a surprise to us because we knew we were only in it for a laugh and the birds."

The Small Faces recorded their first charting material for the Decca label a mere six weeks after forming. The single was called 'Whatcha Gonna Do About It', which featured one of the first recorded instances of the us of guitar feedback and borrowed liberally from a U.S R&B hit. Despite it's similarity to Solomon Burke's "Everybody Needs Somebody To Love" or perhaps because of it, the track was released in August, and within weeks hit the Top 20 of the U.K's singles chart. The band kept going fast and soon appeared performing a Lane/Marriott composistion called "I've Got Mine" in a film which was released as a single in November.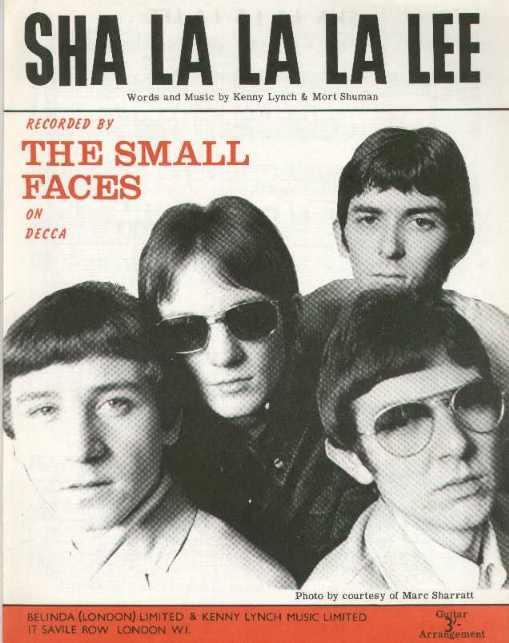 Tracks that followed like the early 1966 release "Sha La La La Lee" and May's number ten hit "Hey Girl", heralded the arrival of their first album, Small Faces. The shining soulful "All or Nothing" was released in August of 1966 and within a month was their first number 1, which meant a full spate of touring, press and TV show appearances.

The boys started making an impact and BBC Radio One disc jockey Anne Nightingale once recalled Mick Jagger telling her in the mid sixties "if you don't like the Small Faces you must be getting old!". Other early career lifts that helped them forge a following came from some Hollywood folks they met on the set of the TV show "Ready Steady Go". Marriott comented "Sonny and Cher gave us a tremendous boost, offering advice and encouragement. We never forget that."


With several hits cementing the band's rough hewn gentleman R&B image in the music marketplace, they were soon the boys about town. They consorted with their fellow pop stars and Marriott and Lane even appeared as background vocalists on the chorus of the Stones "Get Off My Cloud". Living in a group flat at 22 Westmoreland Terrace, they were firmly part of the Swinging London scene, and were regularly seen hanging at clubs like the Adlib, Marquee, Scene, Speakeasy and Bag O' Nails. Within due time, these mod pin ups had secured credit through their manager Don Arden at the hip Soho clothing shops like Carnaby St.'s prestigious Lord John tailors. The boys in the band were now spending ?12,000 a year on clothing, all of which was being deducted from their future royalties.

"When I was a little boy I had a Steve Marriott haircut, Steve Marriott shoes and Steve Marriott pants. I was always dreaming of having a Steve Marriott guitar... recounted Dee Dee Ramone in his autobiography. "Later I'd discovered that Mick Jones and Joe Strummer of The Clash and Steve Jones of The Sex Pistols all listened to the same 25 long forgotten songs...like "Sha La La La Lee" by the Small Faces. And it was mostly because they had power chords in the songs instead of a guitar break. Steve Marriott of the Small Faces would shake his guitar around and just let it hummm. "

As the band built up a keen momentum, along with that came a bit of reputation and attitude, and the eventual ego driven tantrums that fresh stardom entails. Keyboard player Jimmy Langwith ( a.ka. Winston), a bit taller than Steve, was reportedly asked to leave after he drew too much attention away from Marriott's guitar solo on a televison show performance. Marriott no longer desperately needed Langwith's parent's pub to feed his drink habit, nor his black van to transport gear. Ian `Mac' McClagan was about the right height, and was brought in to play Hammond B-3 once he was given a proper mod haircut.

Marriott recalled the simple insanity of these early days "Our live gigs were our livelihood. Regardless of what the band earned from the gigs though we were still on ?20 a week. When Mac joined he was on ?30 a week for six weeks and he created god knows how much fuss because he wanted to have the same as the band. So his money went down to ?20 a week! That's exactly what happened. He couldn't believe it. He was saying "I don't want to be on a wage, I want to feel a real part of the group". Fine, ?20 a week! He was dumbstruck!"

Added Lane in an old Rolling Stone interview from the early 70's: "We worked seven nights a week and ended up broke. There you go. Some people get bitter about that sort of thing, but I wonder what would have happened if we hadn't got through all that. I'd probably ended up in a bloody factory. The Small Faces were very much a band to go and wet your knickers at. For three years we never heard a thing we played, literally, because of the screaming."

Steve Marriott's sister Kay describes the tumult of their performances:" I got very frightened from the concerts and my parents did too. My father used to get up in the aisles and try to barricade the girls off. It sounds funny now, but it could get very frightening because they would just surge...and you've got girls passing out in the aisles and seats next to you. "

Indeed in short time after starting, The Small Faces were a top concert draw and U.K media sensation. They churned out increasingly stunning & soulful numbers that were drowned out live by incessant screaming.

Soon the boys were traveling around paranoid of the mobs, making 20 quid a week while suffering from nervous exhaustion. There were dangerous incidents in which surging crowds shattered through plate glass windows and one when their car was nearly crushed before driving over & through walls of British fans to escape. In addition the strains of the darkside of their growing popularity in the U.K, was the fact that they couldn't properly tour the US.

Supposedly they weren't eligible for a visa to expand into the US market due to a cannabis conviction of McLagan's, but other stories say their management didn't want to relenquish any control of the profitable & naive young group in a larger more aggressive market. Either way, it kept the band trapped in venues between Britain & Belgium, far away from the very lucrative stateside touring and radio market where friends like the Stones & Who were soon getting rich off of. The Small Faces instead became frequent flyers of a different sort, and after long established patterns of Meth, Booze and Hash consumption, they also had begun using LSD by the spring of 1966.

===== From Decca to Decadence ======

By '67 the band were tired of not being paid accordingly for all their work on the European touring circuit and the last straw came when they heard their as yet unfinished demo for "My Mind's Eye" being played unauthorized by a DJ as their "new Decca single" on the radio. They became embroiled in a difficult and nasty legal control battle with Don Arden over their contract. To make matters worse, they were then banned from the Tops Of The Pops TV program after Marriott insulted it's producer. As was common in that era, the boys were escaping the pressures via an enormous amount of drugs, with McLagan recalling "we were rather naughty boys" slyly adding, "...and didn't know when to stop."

They were hooked up with Stone's PR guru Andrew Loog Oldham, who lured them over to his newly formed Immediate label oficially in May. Recounts Jones on their signing "Immediate records was ... the first ever progressive, freewheeling, independent label ... it was like freedom, and Andrew gave us all the time we wanted in the studio".

Done with Decca and the workmen like day sessions with staff producers, the band practically moved into Olympic Sound Studios and experimented with Glyn Johns on an expanded 8 track machine. Said Kenney Jones of these longer sessions "That's when I started getting heavier and almost think classically. The songs that were being writen by Ronnie Lane and Steve lent themselves to that approach. One of the great things about the band was that we never told each other what to do, our individual parts just happened and gelled beautifully". This in turn led to the obviously drug influenced sound released in June 1967 on Kenney's fave track "Here Comes The Nice", a veiled paen to their speed dealer .

When recording 'Itchykoo Park' they utilized Olympic's in house studio guitarist 'Big' Jim Sullivan for the acoustic choked chord intro and a then new and unique three tape deck phasing effect on the drum fills. The phasing was added to the Small Faces arsenal by engineer George Chkiantz who had devised his technique after attending to the Beatle's 'All You Need Is Love' sessions. The psychedelically augmented bubble gum psychedelia classic ' Itchykoo Park' was promoted with a frontpage ad in NME in August of 1967 and eventually hit the top of the Brit charts, reaching number 16 in the U.S in 1967 ( becoming their biggest & only stateside hit).

With two LP's on the charts, (Immediate's "Small Faces" LP and Decca's "From The Beginning") and their charting power reaffirmed, the bad boys returned to their blues influenced style with the powerful 'Tin Soldier', which featured favored Immediate label mate P.P. Arnold on backing vocals. McLagan reminisces "I think it's the best track we ever put together...that's about as soulful as we got...Steve's playing my old Telecaster, Kenney's drumming... there's three keyboards on that, and the range of Marriott's vocal, the whole build at the end, I mean get out of here...You gotta be pretty damn good to do that!"

In early '68, Immediate booked them onto The Big Show, a January tour of Australia with the Who. Halfway across the world, 10,000 miles from home, the two bands roused a reactionary media, law enforcement & even the Aussie P.M while creating a conspicuous amount of mayhem. The initial press conference went badly when McLagan was asked if he was a drug addict & told a reporter to 'Fuck Off'.

Needless to say the tour went downhill from there into an assemblage of stories that vary but continue along a theme. In one tale Steve Marriott told off a Melbourne heckler onstage, and he and Keith Moon then narrowly avoided a beating at the hands of local youths after the show who were hanging around their hotel. The badgering from the mainstream media about drugs and use of obscenities onstage had one daily tabloid call for the banning of "these scruffy, guitar twanging urchins".

Another widely reported tale was of a flight where the group's plane was landed and they were detained by police for 5 1/2 hours due to a silly row about refusing the boys beers on a morning flight. According to Steve Marriott, after the flight Townsend grabbed a news photographer's camera and smashed it to the ground. The bands left Australia, with the P.M sending a formal request they not return. Townsend gladly vowed he'd never return (and kept that promise for 36 years until a much more mature Daltrey & Townsend brought a revised Who tour there in mid 2004).

Once safely out of Australia, Marriott kept it up by celebrating his 21st birthday in Wellington, New Zealand by tossing a phonograph out the window. This is turn inspired Keith Moon to smash up the remaining contents of Marriott's high rise hotel room. They then managed to somehow convince the arriving police that someone must have broken in and wrecked the room. The next day Marriott received an even newer hi-fi gift from EMI to replace the one ruined by vandals. Marriot, Moon and the Who's able roadie 'Wiggy' were so impressed by the painstaking hotel room reconstruction they set about destroying the room all over again, tossing even more TVs and furniture out the window. Upon being caught by the hotel staff, they were presented with a $781 damages bill, to which Wiggy replied "Fuck It! Let's make it an even grand" and tossed out an antique chair.

Despite the drunken, caftan & sitar ridiculing scorn of his bandmates, Ronnie Lane's spiritual pursuits had led him, along with tourmate Pete Townsend, to become a follower of Meher Baba. Despite Ronnie's pursuit of inner peace, soon other internal tensions built up for The Small Faces.

=== How do we follow this up? ===

An issue beginning to consume the group was concern over their status as a "singles" type group and as was fashionable at the time, they recorded a true concept album. Underrated as it may be "Ogden's Nut Gone Flake" in it's tobacco tin packaging stands as an exotic and wonderful piece of 60's pop-smithery. The band spent nearly a year recording the album, of which the process began with an inspirational retreat where the band hired barges and boats, heading up the Thames, mooring amidst the lush countryside woodlands in small river towns like Marlow and Henley. As idyllic as songwriting by campfire sounded, typical drunken and dazed Small Faces chicanery ensued on the trip, with McClagan and Jones both recalling incidents of each other invariably steering haphazardly into other rivercraft.

The album was eventually completed over a period of months, with work done in at least four different studios. The results likely stand in critical opinion as the Small Faces finest hour. The first side of Ogden's includes "Lazy Sunday" the biggest hit of the collection, which was released in April as a single despite Steve Marriott's objections.

It was a rollicking tune inspired by the chaotic lifestyle at Steve's messy and loud apartment in the generally quiet Chiswick district. It featured a cockney show tune style chorus, and the humorous lament that "wouldn't it be nice if I could get on with me neighbors, but they've got no room for ravers." Marriott, despite recording the whimsy filled tune, was angered at it's single release by Immediate, preferring a more serious image be presented. To this day the track, which originally hit U.K number 2, still gets more airplay in the U.K than almost any other Small Faces tune.

The second side of the album was narrated by cunning linguist Stanley Unwin, whose deeply accented Cockney colloquialisms tell a fragmented magical tale of Happiness Stan who went looking for the other side of the moon. Unwin's opening of the 2nd side of the LP begins with the immortal words "Are you all sitting comfty bold two squares on your botty?" The rest of the album goes on to to tell it's silly tale while exploring an expanded musical repertoire replete with bits of Marriott's dramatic heavy metal buildup, some grand & diverse organ work from McClagan, as well as touches of flute and orchestral backing with spurts of Lane's folksy acoustic flourish.

" I think all of us were scared by what we had achieved. It's like, How do we follow this up?" stated Kenney Jones in a an interview with Small faces biographer Paolo Hewitt discussing a reissue of the LP.

In the UK the LP was a bonafied stoner session sensation, but failed to find a large reception in the US. Perhaps this was due to the overt Englishness of the material, and that emerging FM underground and college radio DJ's had trouble discerning songs for airplay when all were banded one into the other with only oddly accented narrative segues. To make it worse, Columbia, their U.S label were outraged that this much hyped band was being paid a higher royalty than it's more profitable stars like Andy Williams, Ray Conniff , Paul Revere and The Raiders and Johnny Cash, yet the UK hitmakers failed to show up to even tour.

A few more singles were released, including "The Universal" in June and "Afterglow" but without a heavy payola push, they had little true chart action, leaving the Ogden's LP to serve as the group's one solid cohesive farewell set. Andrew Loog Oldham, who managed their label refuses to take credit for their failure to succeed. "The group had four Top Twenty records on Immediate and all of them had their first legs bought into the charts. They had one best selling album, the rest was all protective camouflage... "

The time's that were a changing, had indeed changed and Marriott himself especially wanted out of a single's driven group. Steve, who was only 21 in the summer of 1968 sensed it was the time to change the course and found resistance to the idea of adding another guitar player to the group.

Marriott brought Peter Frampton to Paris when the band recorded with French pop singer Johnny Hallyday and he also invited Peter to jam onstage at a couple of the band's gigs but no one else seemed to want him in the band. Marriot wanted to perhaps play newer, harder material, and leave the perceptions of him as a teenybopper idol behind. Says McLagan of that period "He wanted Frampton in the band so he could play less guitar so he could concentrate on singing. Maybe he wanted to write with Peter, I don't know. But he wasn't silly: Pete was the Face of '68 and Steve was the Face of '66."

The Small Faces effectively ground to a halt over the Frampton issue, and after the split, Lane and Marriott wouldn't talk again for nearly 7 years.


====== From Small Things , Big Things One Day Come ======

Marriott who'd bought a country cottage stewed and took his axe to grind elsewhere while touring with English bluesman Alexis Korner for a bit. After flirting with the idea of playing with ex-Stone Brian Jones, he subsequently joining up with that aforementioned young guitar slinger named Peter Frampton from The Herd, bassist Greg Ridley from Spooky Tooth, and a young drummer from a Small Faces cover band named Jerry Shirley. Together they formed a space-age, balls out hippie blues boogie band known as Humble Pie.
In a gesture of friendship, Andrew Looog Oldham released the Pie from Immediate records just as the label went bankrupt. A bidding war of sorts ensued with Jerry Moss of A&M Records offering a $400,000 advance to get the hot Brit blues band.
Pulling out all the stops, Marriott and Frampton created a dual guitar sensation which can be heard in the rumbling live thunder of the classic LP release `Rockin' The Fillmore' or in their first UK single "Natural Born Boogie". They became one of the biggest groups of the early 70's, touring with Grand Funk and playing huge stadiums and festivals. Some of the noteworthy LP titles of this early Humble Pie era include ' Rock On', 'Smokin' and "Eat It". The early hippie ensemble nature of the group began to turn harder edged, and focus more on Marriott's star charisma causing Frampton eventually to move on.


Ironically, the Small Faces also found a new vocalist shadow to live under as well. The remaining Small Faces succeeded in moving forward but without two exiles from the Jeff Beck Group. A loveable lush named Ron Wood took on the guitar and a whisky throated Roderick "the Mod" Stewart joined in on vocals. After getting a new manager, and ending their ties to the bankrupt Immediate label, they all settled on the name Faces and surged as a Supergroup into the 70's in a big time fashion. They released Faces albums via a deal with Warner Bros. that came together despite Stewart's pre-existing solo deal with Mercury. They put out two LPs before spending 12 days making one of the greatest pub rock records of all time. With the release of the seminal set "A Nod Is As Good As A Wink To a Blind Horse" in 1971, where the resulting commotion was loose, lusty, furious and frisky and very well received. The album hit the number 6 position on Billboard, and the track "Stay With Me" helped the LP stay on the U.S charts for 24 weeks, where it attained gold status within a month of release.

As Stewart's stellar solo career on Mercury records began taking off, The Faces also backed Rod in the studio, did a final studio LP ( 'Ooh La La' ) and some stadium touring, but by '73 the charm wore off for Ronnie Lane who left The Faces to try some new ideas. He was replaced by an ex-member of Paul Rodgers' group Free, Tetsu Yamauchi on bass.


While The Faces ended up essentially becoming a Rod Stewart party back-up band, Steve Marriott in turn became the frenzied focal point for Humble Pie. His legendary taste for excess lead the band into musical experimentation, traveling via dual lear jets, copious cocaine consumption and eventual financial insolvency.
Successful oldies reissues of 'Itchycoo Park' and 'Lazy Sunday' in the mid-70s persuaded Marriott, Jones, McLagan and Lane to attempt a reunion to keep the bills paid. When Marriott and Lane had a row, new recruit Rick Wills was brought in to revive the time tested Small Faces name for a series of albums and shows, which were not very successful in the long run. Wills eventually joined Foreigner, and Jones found his financial stability replacing Keith Moon in The Who after his death. With the control over the Small Faces's back catalog drifting through the 70's and 80's as label's dissolved and were reacquired, accounting records of Small Faces royalties were few to speak of.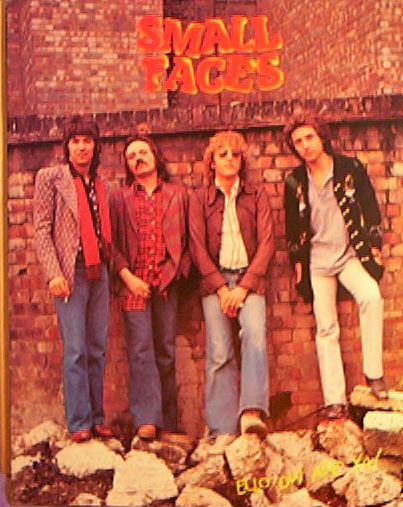 After leaving the Faces, Ronnie Lane recorded several albums with the folk influenced band Slim Chance and the old troubador had a solid U.K Top 10 hit with "How Come" in 1974. His album "Anymore for Anymore?" told the story of Ronnie's fantastique adventures with his self financed Gypsy-esque mid 70's traveling rock circus with actual jugglers, clowns and fire eaters. His mobile studio built in a custom Air-stream trailer also recorded Bad Company's debut LP, as well as hosted sessions for The Who, Led Zeppelin, Clapton, Eric Burdon, Mott The Hoople, and numerous others. Ronnie occasionally jammed with old Small Faces members and made his last noteworthy charting LP collaboration with Pete Townshend on the 'Rough Mix' album in 1977. Lane moved from his 100 acre English sheepfarm to the states and was eventually sidelined from regular performing by Multiple Sclerosis . A popular musician with numerous mates, he became the cause celebre' for 1983's ARMS ( Artists Research Into MS) concert series that placed Lane on the same stage as his fellow musicians Eric Clapton, Jeff Beck, Ron Wood, Charlie Watts, Jimmy Page and many others to numerous to mention. His well off friend's Rod Stewart and Ron Wood helped support Lane financially in his latter years. He finally succumbed to a long battle with M.S at his home in Colorado at the age of 51 in 1997.


It's Better To Burn Out Than Fade Away


While Lane's death was long anticipated as he became further debilitated by MS, Steve Marriott actually was the first Small Face to perish, via a tragic 1991 house fire in his 16th century Arkesden home known as the "Beehive Cottage". Marriott's career had held much promise but as it wore on, his reputation preceded himself. Having gone from playing arenas to the occasional drunken pub gig, his almost always metabolically enhanced behavior had lead him away from the gilded graces of an increasingly unforgiving industry. In fact he was rumored near the end to even bitterly collect bottles occasionally to make ends meet. While a gifted and influential musician and songwriter, his problems with ego, money, taxes, drinks & drugs & dames and combinations there of, had all worn him down to a sordid speck on the rock n roll radar. Reportedly just days prior to his death, he had been consuming quatities of cognac, cocaine and valiums and arguing in LA with a clean & sober Peter Frampton about a potential reunion album. Marriott apparently returned to the U.K, got in a drunken row with his girlfriend, and fell asleep with a lit cigarette and died of smoke inhalation before the 44 year old was consumed by flames.

Late Humble Pie bassist Greg Ridley said of Marriott's influence "Steve was always the main man. For such a little guy he was a goliath onstage. His voice was so powerful and he had that little strut and stuff..."

Meanwhile, the surviving Small Faces have endured in their own rights, and struggled at last to regain their rights and recognition that's due them.

Ian Mc Lagan has lived in the States since 1978 and was finally granted citizenship in 1995. According to an Aug 2004 issue of Texas Monthly, when his green card was finally granted, "They asked me if could read English," recalls McLagan. "I said, 'I am English". Over the years he has started the Bump Band and continued recording & touring with artist's like Bonnie Raitt, The Rolling Stones, Keith Richard's New Barbarians, Bob Dylan and even Billy Bragg. He brings the Bump Band to Slim's in SF on Feb 10th 2005...

Since retiring as drummer of The Who, Kenney Jones has planned an "Ogden's Nut Brown Flake" animated film, and sits as squire of 250 verdant acres of Surrey upon which stands his pride and joy, the Hurtwood Polo and Country Club. After many shoddy reissues and raw royalty statements, Jones began litigating for Small Faces back royalties and was eventually awarded a six figure sum by Castle Records and now supervises all re-releases in the UK. Sadly, neither Marriott nor Lane were able to receive true royalty settlements before their deaths, but the musical legacy of The Small Faces continues into the 21st Century.

----------------------


- article by Lil' Mike Martzke [ LilMike @ MissionArts.org ]

Sources & Interview quotes and accounts come from liner notes, BBC radio, NME, Billboard & Rolling Stone magazines, 'The Room For Ravers' website and 'Darlings of Wapping Wharf Launderette' fanzine. Books that were source material include 'Good Vibrations: A History of Record Production ','All The Rage', 'Seventeen Watts ?", 'Gallagher, Marriott, Derringer, Trower: Their Lives and Music', 'Steve Marriott: All Too Beautiful', 'Moon: The Life and Death of a Rock Legend','Lobotomy: Survivng The Ramones', 'Rolling Stone's Encyclopedia of Rock', 'Ready, Steady, Go!: The Smashing Rise and Giddy Fall of Swinging London' and the excellent Steve Marriott documentary DVD from 2000 called "The Life and Times of Steve Marriott".
Posted by Lil Mike @ MissionArts.org at 6:53 PM PDT
Updated: 02/01/05 4:47 PM PST
After 24 Years The Dicks Still Hate The Police ! Floyd More Years!
Now Playing: No Fucking War!
Topic: Music Reviews

Thursday night I was sucked into the pit in a leather bar
as O.G Texan commie/fag/punk band The Dicks tore the
roof off the sucker.

There was literally less than standing room, as a
sweaty mob of fans reeled and rolled across the beer
soaked floor of the Eagle Tavern. It was like a family
reunion of people without traditional families, and the
crowd included cast members of plenty decent raw &
rocking acts of the last 20 years. This isn't
surprising since this group influenced
a generation with the anger & energy of their early political
punk.

Artists such as The Butthole Surfers, Mudhoney,
Bob Mould and Mike Watt have all mentioned Gary Floyd as an
influential spirit on their work.

David Yow of Jesus Lizard was cramped in front of the
stage near Steve Koepke, the List keeper, while the safety first Jello Biafra preferred an
eye in the sky perch on a ledge above the video poker
machine. "My God, a 300-pound communist drag queen who
can sing like Janis Joplin" is how Biafra once
described Gary Floyd.

Mike Millet of APPLE/ Broken Rekids held tight to a
spot in the hairy huddle near the bar, and Jimmy &
Sothira of Crucifix played it cool by the door. The
room was a virtual Rock Against Reagan reunion, and the
patio was full of folks that never even thought about
quitting smoking, even if their mohawks were receding
and spikes a little dulled with time. Other punk
rock-n-rollers spotted amidst the mayhem were members
of The Rhythm Pigs, RKL, MDC, AOG and SPBT... (If you
need to know what all the acronyms stand for, you
probably wouldn't have dug the scene anyway).

The crowd, easily the densest I've ever seen crammed
into The Eagle for a show, was raging, rowdy and ready
by midnight. After what seemed like a long sweaty,
pushing & shoving wait, someone shouted "Quit Dicking
Around & Play !!!" Mr. Gary Floyd looked up from
studying his setlist and realized it was about time to
get it going, lest he have a riot on his hands.

Proclaiming himself "Spiritual Leader of the Universe
!", He took to the mic stand looking unusually svelte
and almost professor like, with his salty beard. Gone
are the wigs & panties with liver in them, but the
bespectacled showman still knows how to rawk a party.

They opened with "Kill From The Heart", a tune that
really got the packed room pulsing. The band played it
fierce & continued to wash the room in a much needed
dirty bath of sordid sonic history, including the great
"Fake Bands".

After a couple tunes, Gary tried to to get the
excitedly swarming mass to mellow just a little , stop
ripping at the overhanging sound cords, cease the
ridiculously dangerous low ceilinged crowd surfing, and
just be a little more gentle with each other. Gary even
had to bitch out some misbehaving thugs upfront with a
"Don't start acting punk now for the first time in 20
years!".

Threatening to stop the show, he soon tried to relax
the mob, with an intro to song that was supposed to
"calm y'all down a bit". Along came a rousing "Dead In
A Motel Room", with it's bluesy sing-along chorus of "
I Don't Know... Who I am Anymore!", where amidst the
heat and sweat of the swerving maw of the pit, at least
from my perspective, I can testify that it was indeed
true. We were just one big heaving hunk of punk.

Gary made a point to thank Doug Hilsinger and the staff
and owners of the bar, who've made music a part of The
Eagle's legacy. Where else, I wonder but under the
always warm & welcoming wings of The Eagle could such a
reunion occur? Gary introduced the band, all original
members except for the missing Glen Taylor who died a
year back, and "would've been right at home, drinking a
beer at the bar!"

The band's long torrid 24 year history came pouring out
of the sound system as the tightly packed crowd swelled
around the stage. At some point David Yow ended up on
he mic, unseen, he was singing "Wheelchair Epidemic" a
song his band Jesus Lizard had covered and
repopularized years ago on a 7" single. Amidst the
moments of thunderous mayhem and gangs of gawkers, the
Dick's onstage visages were often only visible as
ghostly white silouettes provided via overhead
infra-red security cam. Then even the view via the
upper stage right TV monitor went black in the cord
tugging chaos.

All the ol' faves were played like "Shit on Me" and
"Bourgeois Fascist Pig". The setlist looked long, but
the songs were short, and The Dicks 2004 reunion
finished with a fierce "Dicks Hate The Police". The
song originally appeared on MDC's R Radical label as a
7" in 1980 and MDC's drummer Al Shvitz was there fresh
from prison last night to usher in another decade with
the aging anthem. He hadn't seen some of these folks in
10 or 20 years, and the recently turned 50 hardcore
pioneer was obviously touched. "It's a very special
night", he said and attending it caused him to lose his
bed at a halfway house.

After the show I decided "Floyd More Years!" was the
only worthy election year chant I could be down with,
and Gary showed his approval by licking my ear.

While the diehard old school punk fools at The Eagle
were enjoying a reunion of the original commie pinko
fag band, I guess in NYC there was a party with an
altogther different flavor happening.

Isaac Hayes introduced Kid Rock to a crowd last night
that included Dennis Hastert, the first daughters and
hundreds of others at a Republican Convention / RIAA
party at NY's Avalon club.

"He's a baaaad Mutha... Fucker!" boomed South Park's
Chef voice out to the red state richies and liquored up
lobbyists who were lovin' it!.

Ironically , the white trash rapper from Michigan
hasn't always been the GOP's favorite son. Sen. Zell
Miller, the convention's keynote speaker, said after
watching Kid Rock's recent crotch grabbing flag waving
Super Bowl halftime performance, "He should be tarred
and feathered and ridden out of this country on a rail."

The grand old partyin' kids in NY apparently have
another opinion...

According to Michael Schere of Mother Jones:

Riotous applause spread through all five levels of the
club, a former church when Bob Ritchie a.k.a Kid Rock
laid out his platform "I'd give the working man back
his money and make every lowdown dirty Democrat in D.C.
pay!"

"I'd give the State of the Union address flying high,
smoking a joint on Air Force one." The roar was even
louder now. "If I was president, I wouldn't have sex in
the oval office and then lie about it to everyone. I'd
put in TV cameras so every man could watch ol' Rock lay
it down."

Apparently, if the crowd response of enthusiastic
pandemonium is an indicator, this voyeuristic concept
was a well received idea by the 1st daughter's
demographic hanging in the DJ booth and the lucky V.I.P
types throughout the hall.

Me , I think I'll take "Floyd More Years"...

for some great early years pix of The Dicks in TX see
http://ccwf.cc.utexas.edu/~edge/idle_time/dicks/

To see a short video clip I shot and edited of Gary's Black Kali Ma group in 1999 visit
http://members.tripod.com/mikelil/bkm1.html
Posted by Lil Mike @ MissionArts.org at 5:20 PM PDT
Updated: 09/04/04 7:33 PM PDT
Newer | Latest | Older