Jayhawks to tour with Matchbox 20
Last time around Matchbox 20 had Soul Asylum opening up for them in 1998, but Y2K sees fellow Minneapolitans The Jayhawks invited to share the stage with current teenybopper fave Rob Thomas and Co.
The Jayhawks are currently coming off of a number of headlining mini-tours in support of their new Bob Ezrin produced CD, Smile.
Here are the fall 2000 Matchbox Twenty/Jayhawks dates:
Sept. 12, New Orleans, UNO Lakefront Arena
Sept. 14, College Station, Texas, Reed Arena
Sept. 15, Austin, Texas, Frank Erwin Center
Sept. 17, Tallahassee, Fla., Civic Center
Sept. 18, Gainesville, Fla., O'Connell Center
Sept. 20, Greensboro, N.C., Coliseum Complex
Sept. 22, Amherst, Mass., Mullins Center
Sept. 23, Troy, N.Y., RPI Fieldhouse
Sept. 24, University Park, Pa., Bryce Jordan Center
Sept. 26, Columbus, Ohio, Schottenstein Center
Sept. 27, Oxford, Ohio, Millett Hall
Sept. 28, Ypsilanti, Mich., Convocation Center
Sept. 30, Toronto, Air Canada Centre
Oct. 1, Grand Rapids, Mich., Van Andel Arena
Oct. 2, South Bend, Ind., Notre Dame Joyce Center

Golden Smog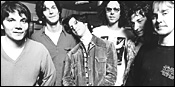 Big Star Drummer Jody Stephens joined up with Golden Smog on their album "Weird Tales" which was released on Rykodisc October 17th 1998. A brief east coast tour occurred that fall and then another west coast swing ended in late January

0f 1999 . More possible touring info is available via Pollstar.


With members like Wilco's Jeff Tweedy and a couple Jayhawks in the mix, fans of laid back americana know what to expect. Here is a Real Audio sample from Weird Tales entitled Until You Came Along


Live the band appeared a bit more haggard and unnerved than the last time I saw them in 1996. Eldest member Jody Stephens appeared younger and healthier than some of the younger more road ravaged fellas. Stephens played in leather gloves lookin' like a perpetual teenager behind his kit. The Smog got into a steady groove and switched instruments occasionally, sometimes they were joined by a bewitching female violinist that someone told me was formerly with the

Geraldine Fibbers. Particularly enjoyable was their live treatment of Bay Area resident Elvin Bishop's 1976 hit Fooled Around and Fell In Love. Overall the "Weird Tales" album and subsequent live shows are a truly decent effort featuring some great loose performances of mellow country time grooves.



Dan Murphy of former radio faves Soul Asylum opens up the Weird Tales record with a track called "To Call My Own" .

order by clicking picture

Murphy, who spent the summer of '98 on a seemingly dead end Soul Asylum tour opening for Matchbox 20, has expressed much more hope for Golden Smog than the fate of his other band. The rags to riches to rehash saga of Soul Asylum has taken on a life of it's own and you get the feeling Murphy enjoys his time with The Smog.

Dave "chief raincloud" Pirner has led Soul Asylum into a brick wall of public disinterest and they've petered out on the charts in '98. Their latest album barely registered on the radio radar and dropped off the Sound Scan just days after release. Most suspicious was the weak wheezing and yelping from the former fireball Pirner that sounded suspiciously like an Eddie Money/James Taylor outtake collection.

In contrast, The Golden Smog project takes a little sound and inspiration from each of the other band member's current projects and infuses it with a collaborative spirit unburdened by the corporate restraints that weigh down those respective serious bands.
The only real problem is getting them all on the road together at the same time...
Although some may consider the Golden Smog "Weird Tales" album not much more than outtakes or filler from already successful musicians, it certainly can stand on it's own next to any of the aforementioned band's albums.
---
The Summer 2000 Release with Wilco and Billy Bragg is out Now!

Tweedy romps through Joe Diaggio Done It Again
Check out Billy Bragg singing the blistering cut All You Fascists
Both written by the late great Woody Guthrie

Wilco has other releases on Reprise Records( a label founded by Frank Sinatra back when Tweedy was but twinkle in his father's eye) available via clicking here...

" Summer Teeth"

Wilco's 3rd CD , was one of 1999's most highly regarded releases.






Frontman Papa Tweedy, called the Summer Teeth album " a departure " from the band's standard alt-country fare, and featured a darker, pop-oriented sound. Here's a real audio preview

of Nothing'severgonnastandinmyway (Again)





This time around, the rest of the band shared in the song-writing credits.
Check It Out... Da Word is ...It Rocks...

---
BIG STAR TRIBUTE PROJECT
a Big Star tribute album, 'Big Star Small World', was released on May 17 1998 on Ignition Records.
The album includes Teenage Fanclub's version of 'Jesus Christ', as well as Wilco ('Thirteen'), Matthew Sweet with Mike Mills and Jody Stephens ('The Ballad Of El Goodo'), Juliana Hatfield ('Don't Lie To Me'), the Ohio act Afghan Whigs ('Nighttime') and The Gin Blossoms ('Back Of A Car').
---
to order any recordings by the above mentioned acts or others ...
search here...


LinkExchange Member

Whoa! This page has been visited a whopping
times by folks like you.