East Bay Ray (born Ray Pepperell) and the rest of the Dead Kennedys lineup -- bassist Klaus Fluoride (born Geoffrey Lyall) and drummer D.H. Peligro (born Darren Henley) -- filed suit against Jello Biafra (born Eric Boucher)on October 29th 1998.
The musicians are seeking damages, access to royalties owed and a legal recognition of the Sept. 30 decision by Ray, Fluoride and Peligro to no longer have Alternative Tentacles and Mordam Records distribute their music. The three former Dead Kennedys members collectively are partners in Decay Music, the band's business and administrative entity.
The suit reads, in part, "After assuming ownership of Alternative Tentacles, Biafra proceeded to violate, and continues to violate, his contractual and fiduciary duties to his partners in Decay Music by engaging in a pattern and practice of self- dealing, placing his own interests ahead of the interests of his partners, wrongfully depriving his partners of their income from the Dead Kennedys catalog, and using partnership assets to enrich himself."

"We ain't gonna work on Biafra's farm no more," said Ray in a prepared statement.
The suit specifically asks for a jury trial and seeks "declaratory and injunctive relief,'' as well as financial damages from Biafra and Mordam Records on charges of "breach of fiduciary duty, conversion, breach of oral contract, unjust enrichment and unfair business practices."
The dispute stems partly due to missed opportunities in licensing band material to commercial projects. Biafra reportedly turned down money from Levi Strauss to use Holiday In Cambodia in a TV commercial that would've netted multiple thousands of dollars for each band member without consulting them. He has also flat out refused offers to reunite and appear in Japan.
Klaus Fluoride said after a recent gig in Sacramento with his current band Jumbo Shrimp "We really didn't want to have to go this route" but saw no other way to settle. Jumbo Shrimp also periodically features East Bay Ray on guitar and peppers their surf-strumental sound with covers of acts like Cheap Trick, Weezer and even disguised versions of the Dead Kennedys' classic "Too Drunk To Fuck".
Biafra continues a career of verbally expounding on various subject matter on the college lecture circuit.
---
well over 15 years after Journey was featured in their own arcade and Atari console game, Metal stalwarts IRON MAIDEN will be releasing a PC game called 'Ed Hunter' on May 17 through EMI Chrysalis developed by Synthetic Dimensions of Wolverhampton UK. It will come with a dbl CD retrospective of the band's career.
The nine member Wu Tang Clan are working with Activison on a new Sony Playstation game that will feature 4 new audio tracks. According to Activision's chairman Bobby Kotick the group approached the company. He told USA Today that the clan were "very entrepreneurial guys".
comic-antartic space metal porn group GWAR was also a peripheral part of a Beavis and Butthead video game where the two idiots attempted to fight their way into the show.
www.GoodNoise.com changed their name to E-music.com and offered stock as an IPO in 1999. Cutting deals with content providers is their business model and they make songs exclusively available for download from their site. Among the artists they work with is ex-Pixies frontman Frank Black. His complete album is available as an MP3 download for $8.99, or any individual track for only 99 cents ...download times may vary.

28.8 Modem 16.5 Minutes
56K Modem @ 53Kbps 9 Minutes
Dual Channel ISDN 3.7 Minutes
1.54 Mbps ADSL/T1 18 Seconds
10 Mbps Cable Modem 3 Seconds

or just order a plain ol cd here
---
And What about The Beatles...
Ringo of course has a new album featuring Joe Walsh and other cronies floating around somewhere south of the Hot 100. George Harrison reportedly had a cancerous polyp taken out and is recovering just fine.
Philanthropic Misanthrope
In a sadly semi-philanthropic gesture John Lennon's "still crazy after all these years" assassin, Mark David Chapman, told a reporter from the Rochester Democrat and Chronicle that he refuses to benefit from the sale of the copy of John Lennon & Yoko Ono's Double Fantasy album that he had asked the former Beatle to autograph just moments before he gunned him down. Apparently an anonymous man took it from the crime scene after Chapman had stashed it behind the watchman's booth, and has offered it for sale online for $1.8 million. Chapman told the reporter: "I have no interest whatsoever in making a claim. I have never profited from this crime, and I never will. I hope the money will be donated to charity."
Meanwhile, Grand Royal recording artist Sean Lennon reportedly mentioned in Rolling Stone that his pop, at times could be "a macho pig with a violent temper," and also related a story of a time when John had sex with a woman at a party while Yoko was in the next room. A tabloid says he's recieved a few death threats because of it.
Paul McCartney has been working on an album of Rock and Roll covers with David Gilmour, which may include Ricky Nelson's 'Lonesome Town' which he performed at a U.K charity concert in April. He also has been in the studio with multi-instrumentalist Youth, from the industrial punk band Killing Joke to release another ambient techno project under the moniker "Fireman". The album, McCartney's first since the death of his wife, Linda McCartney, will be released on the EMI imprint, Hydra, created solely for this project. Capitol is also heavily hyping the 25th anniversary re-issue of "Band On The Run".

---
PLEASE HAMMER DON'T HEAL 'EM...
Although my secular self has failed to witness MC Hammer (a.k.a Stanley Burrell) preaching the word of the gospel on the Black Entertainment Network, he's apparently an ordained Baptist Minister now. The Former Bat Boy, Race Horse Trader and Bankruptcy Court veteran is now MC Hammer Ministries, a paid weekly show buying airtime Sunday nights on BET. Rumor says he has plans to expand his television ministry this fall by buying onto the Fox Family Channel, which currently airs The 700 Club.
---
Wazzup with Carlos Santana
Aside from making Supernatural, one of the hottest albums of 1999/2000, Carlos is still hanging in the hood. Fresh from winning more Grammy's than any one man could ever carry, planning a huge tour, and riding the top of the charts with over 10 million copies of Supernatural sold, Carlos was kicking it in the mission in late March. The San Francisco Mission High alumni, who donated over $200,000 in the past year through his Marin based Milagro Foundation to local and international charities, still takes personal time to support local artists and community based non-profits. Spotted eating lunch at Maya Taqueria on 16th & Guerrero, the latino rock guitar legend was dining with local artist and ex-Komotion collective member Sal Garcia. Garcia, who once helped curate a Santana retrospective at the Mission Cultural Center, makes the unique amulets that Carlos wears onstage and gives to people on his travels. Carlos informed Garcia that he recently gave one to pop sensation Ricky Martin. The Santana band leaves for stadium dates in Japan in April, hits Spain in May and rolls through 8 countries by June. US dates begin in Florida in July, with no Bay Area concerts expected until at least late August...
In early April of 2000 he and Everlast filmed the video for Put Your Lights On at Oakland's Diamond Club.
He also now has a star on the Hollywood Walk of Fame, located at 7080 Hollywood Blvd. (near the corner of Hollywood and La Brea), the Walk Of Fame Star dedicated to the Mexican American Guitar God was secured with contributions from the Hispanic Education and Media Group, Inc. and dedicated on August 18th 1998 during a four night run at the Greek Theater in LA. Santana has also started his own label distributed by Sony.
---
IT IS ANOTHER SAD DAY FOR GLAM ROCK:

Glam rock legend GARY GLITTER (real name PAUL GADD) was officially charged on Monday March 30th 1998 with 50 offenses relating to child pornography. He was eventually convicted in November of 1999 and was being held in a British gaol. Glitter, 53 was charged by British Police with possessing hundreds of indecent pseudo-photographs of children under the age of 16. The charges came after nearly six hours of questioning at Staple Hill police station on the outskirts of Bristol. Glitter flew back to Britain from Cuba this spring, where he had been hiding out since the New Year, with his 25-year-old girlfriend YUDENIA SOS MARTINEZ. Glitter was first questioned in November of 1997 after staff at a computer chain store alerted police about material allegedly stored in a computer Glitter had brought in for repair. The rocker consistently denied the allegations, but was forced to litigate, was jailed andwas released in late 1999.
Waddy Wachtel, an LA based american guitar slinger of dubious distinction is also facing similar charges due to som electronic depictions downloaded and stored on his hardrive that was sent in for repair. Let this be a warning to all ye porno surferz, get removable storage devices if your gonna be looking at XXX images.
---
Shane MacGowan's manager has said he's working on a book of short stories of reminiscent "of Charles Bukowski",

while his recent 17 track album "Crock of Gold" is as yet unreleased in the State's...it is available for $26.99 via this linkMacGowan recently was accused on Irish TV by Sinead O'Conner of being a junkie, and his own parents came to his defense suggesting that O'connor mind her own business. MacGowan failed to show up for his US appearances in 1999's Guinness Fleadh put on by Mean Fiddler promotions.
---
NEW ORDER PLAN A FULL COMEBACK:


Electronica pioneers NEW ORDER are planning a full-scale comeback after deciding they still like each other enought to get their retro-80's fever comeback money. PETER HOOK and BERNARD SUMNER are returning to their former glory as progenators of the electronica movement and reap the economic rewards of their back catalog. After a six year break from playing live together, the Manchester quartet have decided to regroup to work on an album after their festival appearances this past summer in England. Frontman Sumner says, "During that break, there was the thought in our minds that we were never gonna get back together or see each other again. That's different from saying, 'Let's just take a holiday.'" But after New Order manager ROB GRETTON contacted the group about a Festival gig, they all agreed to meet up - and to their surprise got along fine. Sumner adds, "We decided to have a meeting and if anyone had any grudges to bear, to iron them out."

---
On Bob Dylan's recent Austrailian tour, he played one club gig at Melbourne's Mercury Lounge, with fans paying as high as $700 for tickets. According To Pollstar, one fan had a particularly odd gift for Dylan -- 900 pages of court transcript describing what she says was her sexual relationship with him. The whole story is available online at the ConcertNet Australian News.
---
MORE MUSIC NEWS BLURBS
---
Hutchence "Suicide" Anniversary
As the anniversary of Michael Hutchence death passed, a private ceremony was organized by his father on Nov. 22 1998 at an intimate chapel in North Ryde, Sydney.

The Hard Rock Cafe held a more public event that occurred on Jan. 22 1999, on what would have been his thirty-ninth birthday. A "reunion" jam on that occasion was organized by Kelland Hutchence ,who recently said of Michael "He brought the world a great deal of love and happiness -- I hope this tribute can do the same for his fans."
The INXS singer hanged himself with a belt at the Ritz-Carlton in Double Bay, Australia, on Nov. 22, 1997 -- just days before INXS were to have launched their twentieth anniversary "Lose Your Head" tour. Hutchence was due to perform on Australian T.V w/ INXS the day of his death and was late for rehearsal when his body was discovered in a Sydney Hotel by the maid. Investigators found traces of cocaine, alcohol and prescription anti-depressants in Hutchence's blood and ruled his death a suicide.
Paula Yates, widow of INXS singer Michael Hutchence, announced earlier in 1998 that she will attempt to legally overturn an Australian coroner's ruling that declared her husband's death a suicide, according to the Associated Press. Yates, a british TV star and ex-wife of Sir Bob Geldof said that, based on her personal knowledge of the singer, she could not believe Hutchence took his own life.
Yates

and Hutchence had a stormy relationship that spawned a surviving daughter.

Lately a slew of relatives and business managers have been contesting the Hutchence will and value of his estate. His wealth had apparently been hidden off shore in Asia for tax purposes and entrusted to different business managers. Hutchence sister and others have filed court documents in Australia about the mysterious activities surrounding his money.

V2 records, started by Richard Branson has bid for the rights to release Hutchence remaining solo recordings and re-release the Max Q project that formerly was available via ATCO in the late eighties and early nineties.
---
Nutty Old School Soundsters go Hi-Tech on New CD

The Squirrel Nut Zippers have finally released the follow-up to

1997's surprise hit album "Hot" which has sold over a million copies. The new 1998 disc on the now Disney owned Mammoth label is titled "Perennial Favorites" and has CD-Rom bonus tracks as well. The disc's 38-minute audio length left plenty of data space for its lively and innovative enhanced section. Conceived and programmed by band associate Clay Walker, it features 18 minutes of live performance video, including a brief documentary on the recording of the album and the MTV-banned video for Hot's "Put A Lid On It." An additional 22 minutes of audio offers clips to all songs from The Inevitable, Hot, and Sold Out, and as if that wasn't enough, a 363-page interactive book details the history of the Zippers through interviews conducted over the last two years.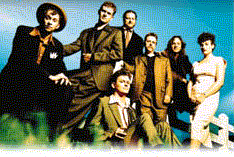 ---
The first decade of U2's extraordinary history is celebrated with the worldwide release by Island Records of " U2 The Best of 1980-1990" was released on Tuesday, November 3

1998.
The initial pressing and advance orders included a bonus Cd with bonus B-sides from the eighties.
The main track listing of U2 "The Best of 1980-1990" is:

-- Pride (In the Name of Love)
-- New Year's Day
-- With or Without You
-- I Still Haven't Found What I'm Looking For
-- Sunday Bloody Sunday
-- Bad
-- Where the Streets Have No Name
-- I Will Follow
-- The Unforgettable Fire
-- Desire
-- Angel of Harlem
-- When Love Comes to Town
-- Sweetest Thing
-- All I Want is You
---
CONCERT PROMOTERS SINK TO NEW LOWS
The success of the virtual stage show "Elvis -- The Concert" has led promoters to consider organizing similar concerts for other deceased stars. Stig Edgren, tour producer of "Elvis," told Amusement Business that promoters have contacted him about resurrecting Janis Joplin and Jimi Hendrix; Edgren added that he also would think about recreating virtual shows with the Grateful Dead, with living band members playing with the later Jerry Garcia, or even Karen Carpenter, who could once again sing with her brother.
Eddie Micone, executive vice president of entertainment for Radio City Productions, said his staff is discussing putting together a Dean Martin show using the virtual concept. He envisions the show playing in Las Vegas and Atlantic City because, he says, "Dino belongs in Vegas forever."
The 10-date, two-week trial outing of "Elvis -- The Concert" generated more than $1 million. The show consisted of two hours' worth of film footage of the King crooning while his original band members accompanied him live on stage.
I guess that isn't much worse than a Long Beach Dub All Stars Gig...at least you get to watch a video...

More from the Grave: re-producing Tupac
New in the can from Daz Dillinger of Tha Dogg Pound are two new Tupac Shakur albums he's producing, titled "One Nation" and "Makaveli & Dillinger", which are both in the mixing stages right now.Tha Dogg Pound's album is tentatively titled West Coast Aftershock, and is expected to be released in the spring of 1999 on the troubled Death Row label.

SO DO YA LIKE CHINESE FOOD?
IF NOT, THAT'S O.K, WE CAN LOOK ELSEWHERE
BIG STAR TRIBUTE PROJECT
a Big Star tribute album, 'Big Star Small World', was released on May 17 1998 on Ignition Records.
The album includes Teenage Fanclub's version of 'Jesus Christ', as well as Wilco ('Thirteen'), Matthew Sweet with Mike Mills and Jody Stephens ('The Ballad Of El Goodo'), Juliana Hatfield ('Don't Lie To Me'), the now dropped Ohio act Afghan Whigs ('Nighttime') and The Gin Blossoms ('Back Of A Car').
---
Golden Smog
For additional Golden Smog, Son Volt, Wilco or Soul Asylum Info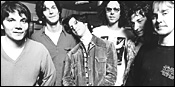 ---
The Detroit Board of Education passed a resolution calling on WDIV-TV, Detroit, to move USA Networks Studios' "The Jerry Springer Show," from the 4 p.m. time slot, when school kids can be exposed to its "highly sexual, violent and scandalous material." The show is the first or second most watched show by teenagers in many markets.
---
Order an import CD from CD Now...current available titles listed here...
---
Have you ever noticed....
Anybody going slower than you is an idiot, and anyone going faster than you is a maniac? -- George Carlin