NBA All-Star Game band 2000
Some Key Cropper Solo Albums To Own:
With a Little Help From My Friends - a 1971 set of Memphis musical mayhem
Jammed Together - produced by Cropper with help from maestro Isaac Hayes and featuring Albert King and Pops Staples this discus is a serious soul stew. Here a couple samples from this collaboration...
As a record producer he has worked with acts including Rod Stewart, George Strait, Wyonna Judd, Jeff Beck, Jose Feliciano, Poco ,Mitch Ryder, and Trisha Yearwood.

Steves' list of musical awards includes 17 platinum albums, 6 CMA awards, 4 ACM awards, 2 Grammy Awards, 5 Gold albums, and many more...
---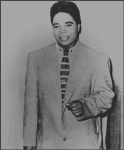 Born: Dec 24 1926/Dec 24 1924 (date disputed).
Died: Dec 1, 1986
Seminal 50's and 60's New Orleans R&B singer
"If a smile had a sound, it would be the sound of Lee Dorsey's voice." Allen Toussaint
Lee Dorsey was an Ex-GI who boxed undefeated under the name "Kid Chocolate" before retiring in 1955 to work in a body shop owned by the New Orleans R&B disc jockey "Ernie The Whip".
While hanging out at the garage, a local record producer arranged to book him some time at Cosimo Matassa's recording studio. His early Instant and Rex label efforts went unnoticed, but boosted by an appearance on American Bandstand, his 1st ABC single "Lottie Mo" moved up the charts.
Dorsey soon was backed by the A.F.O. (All For One) band featuring Allen Toussaint on piano; Roy Montrell, guitar; Chuck Badie, bass; Alvin "Red" Tyler on sax; and John Boudreaux on drums. They recorded the nonsense hit "Ya Ya" for the Fury label and it entered the charts in August of '61. During a nineteen-week chart run the whimsical tune reprtedly written in a bar after watching some kids playing outside peaked at Number 1 R&B and Number 7 Pop. A few follow-ups were attempted on Fury, Smash and Constellation, some denting the lower echelons of the R&B charts but the fertile Lee Dorsey had 11 mouths to feed and went back to working on cars.
Although he was New Orleans' best known R&B performer by the 1960's, Lee Dorsey's music career was more a sideline. Bits of the money trickled in from his occasional hit records, but his income was stabilized by local radio commercials that proclaimed him "The Best Body Man In The 9th Ward!".
By 1965 Lee Dorsey had taken two years away from the music biz, yet Allen Toussaint, (fresh from a stint in the Army) and Marshall Sehorn made Dorsey a priority. "Ride Your Pony," an funky dance number augmented with real gunshot sounds was released on the Amy label and quickly rose to # 7 R&B and # 28 Pop. The infectiously groovy tune had a thirteen-week chart run in the spring of '65, giving Dorsey's career its second wind. Over the course of the next four years Dorsey released several successful tracks including "Working In A Coal Mine" which hit #5 R&B, and #8 Pop. Other hits came and went including "Holy Cow" and "Get Out Of My Life Woman" which was covered by at least 40 other artists. Toussaint was providing excellent studio guidance at was using players like Deacon John Moore on Guitar during these mid 60's sessions before switching to the Meters in the latter part of the decade.
"Everything I Do Gonh Be Funky (From Now On)" and "Candy Yam" were proplelled by funky drummer Zigaboo Modeliste and the rest of the The Meters into minor chart hits circa 1969. Dorsey scored a deal with Polygram in early 1970 and the title track "Yes We Can" composed by Toussainit hit #46 , but was actually big hit a few years later for the Pointer Sisters. He guested on the 1976 debut album by Southside Johnny And The Asbury Dukes. His last album "Night People" produced by Toussaint was released in 1977 for ABC, the label that also ironically started his career . Lee wowed 'em @ 1979 Jazz Fest in a wheelchair after a motorcycle accident and kept performing whenever money and occasion combined. His last major tour was supporting The Clash on their 1980 North American campaign. His goodtime songs were also covered in the early 80's by new wave acts Devo and Trio. He died of Emphysema in 1986.
Recommended Choices:
Wheelin' and Dealin' - This BMG collection compiles material from Ya Ya to Candy Yam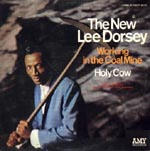 -a great look back at 24 of the the 1966-1970 Amy recordings including Working In A Coal Mine and never released bonus cuts and versions backed by The Meters. only $12.49
Great Googa Mooga - A 40 track Dbl CD Import from the U.K on sale for $18.99
Click Here for a complete list of currently available Lee Dorsey recordings
Revised: June 22, 2001 .